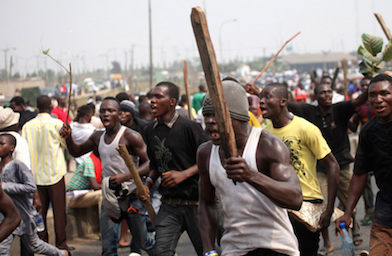 POLITICAL PARTIES REGISTRATION COMMISSION
OAU Drive, Tower Hill, Freetown, Sierra Leone
Email: info@pprcsierraleone.org      Website: www.pprcsierraleone.org
PPRC PRESS RELEASE 30th May 2016
The Political Parties Registration Commission (PPRC) wishes to express disgust over the conduct of some supporters and members of the Sierra Leone Peoples Party (SLPP) in Kenema District that led to the death of the young man commonly known as "Daddy George" on Friday 27th May 2016.
The Commisison vehemently condemns such dastardly act which is unacceptable and will deter the growth of the party and the country as a whole. Such conduct by the SLPP supporters was a recipe for chaos as youths within political parties must be agents of change and should keep away from every form of violence, thuggery and unpatriotic activities.
The Commisison is reminding the SLPP that  political parties are established by the 1991 Constitution of Sierra Leone  to participate in shaping the political will of the people; disseminate information on political ideas, and social and economic programmes of a national character.
The Commission is also calling on the leadership of the SLPP to  cooperate with the police and other law enforcement agencies in the investigations. In this regard, the Commission is in full support of the action taken by the Sierra Leone Police (SLP) in Kenema to put a ban on all political activities in the District.
The Commission also notes with grave concern the engagement of Vigilantes or private security by stakeholders of the SLPP in Kenema during the meeting of stakeholders in the District.  The Commisison need not remind stakeholders of the SLPP that the Sierra Leone Police is the Constitutional body charged with the mandate to protect lives and properties and to maintain internal security. The Commission is of the view that the introduction of vigilantes or private bodyguards in our political scene is counterproductive and will mare our quest for peace in Sierra Leone.
The Commission wishes to express its deepest sympathy to the bereaved family.
May his soul rest in peace.
# End of release #