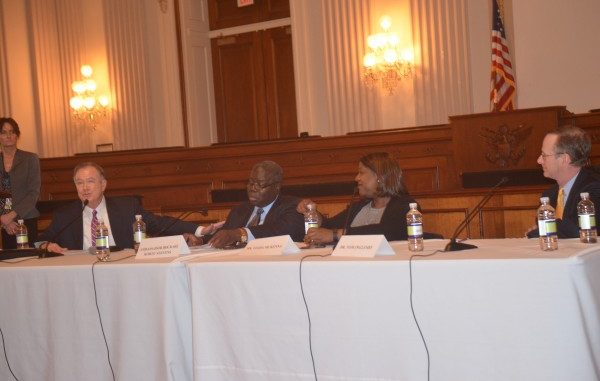 Sierra Leone's Ambassador accredited to the United States of America, HE Bockari Kortu Stevens has said Sierra Leone does not need hand – outs as post recovery strategy to help restore the systems back to work.
"we need partnerships: and the strategy must be Community based and owned".
Speaking during a congressional Forum on Ebola, on the topic "Building Resilient Communities: Ebola and Global Health Crises -Where we need to Go", Ambassador Stevens described the impact of Ebola outbreak in Sierra Leone as "huge."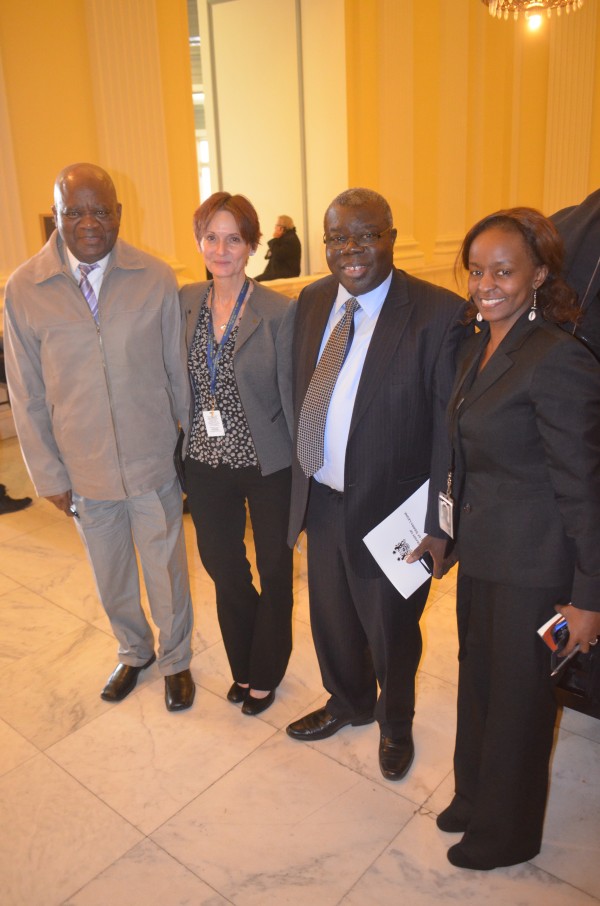 Amb. Bockari Stevens (2nd R), Amb. I.S Conteh (1st L) and two specialists of US Congress
He said Ebola stalled Agricultural and Mining activities, slowed Construction work, stagnated Tourism activities, reduce Air Transport, Trade and other economic activities.
"Therefore, Sierra Leone needs to Evaluate current models of operation in dealing with emergencies, and adopt  very good strategies to build resilient communities that can prevent the level of devastation caused by Ebola, in any future outbreak.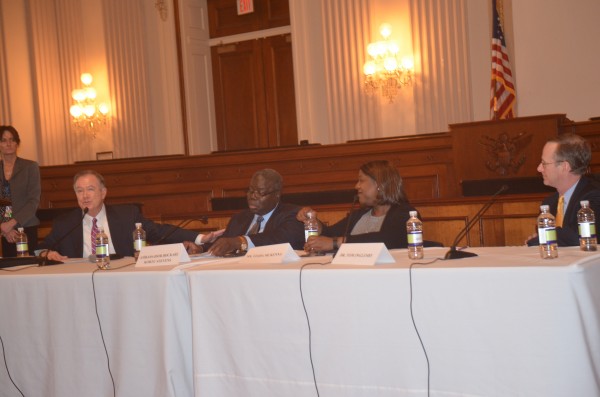 Amb. Bockari Stevens re-echoeing Govt stance regarding Post Ebola Era during the congressional debate on post Ebola era (2)
According to Amb. Stevens, all future partnerships in terms of programs and projects will be subjected to Public Awareness, Social mobilization, Information and Communication sharing with affected Communities, traditional rulers.
"We can now say with some amount of alacrity that we are on the right trajectory to combat the Ebola scourge.
"This is due to the formidable strategic plan of the government, the international community and above all the resilience of the local communities.
"Overnight, Sierra Leoneans had to dislodge century old cultural practices such as handshakes, burial practices, secret societies etc. as required to contain Ebola.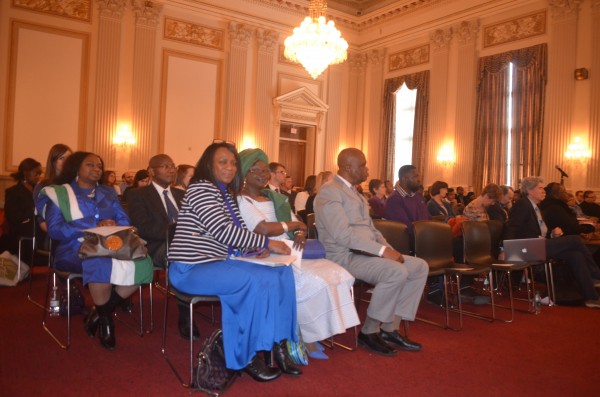 Earlier in his opening remarks, Dr. David Nabarro the United Nations Secretary General's Special Envoy expressed delight at the diminish in number of infected persons and said the international community is resolved, and stands ready  to see the end of Ebola.
The forum saw four different sets of panelists dilating on different subjects including Agricultural Exchange on Human and Institutional Capacity Development, Education, Health and social development.
The session also saw exchange of brilliant ideas relating to missing gaps in the intervention of the international community in crisis areas and that of future engagements.
Dr. Brady Deaton, Chancellor Emeritus University of Missouri-Columbia, Executive Director of the Deaton Institute for University leadership in International Development Chair of Bureau for International Food and Agriculture Development (USAID) assured affected Countries of the United States support and reiterated that "the United States and other Countries have a deep interest in mitigating the Ebola threat and said the United States Congress is responsible for oversight of Ebola emergency funds, hence the congressional forum.
The Forum was organized by the Congressional African Staff Association (CASA)- a bi-partisan staff association that strives to educate Members of Congress and staffers on substantive African Issues , highlight best practices for diplomacy and governance, and bring light to innovative initiatives in Africa through Panel discussions, briefings and events with the  United States policy makers,NGO's, the Diaspora and especially diplomats and dignitaries  from across the continent.
Ambassador Stevens was accompanied by Deputy Chief of Mission Ambassador Ibrahim S. Conteh, Information attache Mr. Pasco Temple and other members of the Sierra Leonean Community in USA.
Pasco Gerald Temple
Information Attache
Embassy of Sierra Leone to the United States
1701 19th St. NW
Washington, DC
20009
Tel:+202 4466958