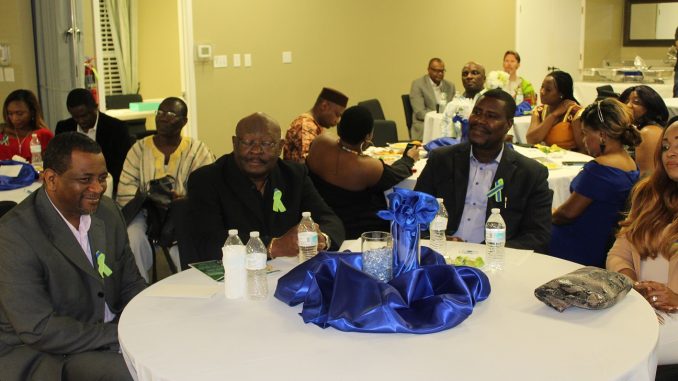 By Sanpha Sesay
The Texas Chief
May 29, 2017: Dallas, Texas. The Association of Sierra Leonean Organizations in Texas (ASLOT) was formally launched its first fundraising drive on May 27, 2017 in Plano, Texas, with Mr. Aaron Pierce of Restore Hope as the guest speaker.  It was an amazing fundraiser that attracted and engaged community leaders from different organizations, professionals from all walks of lives, stake holders, and American friends also attended.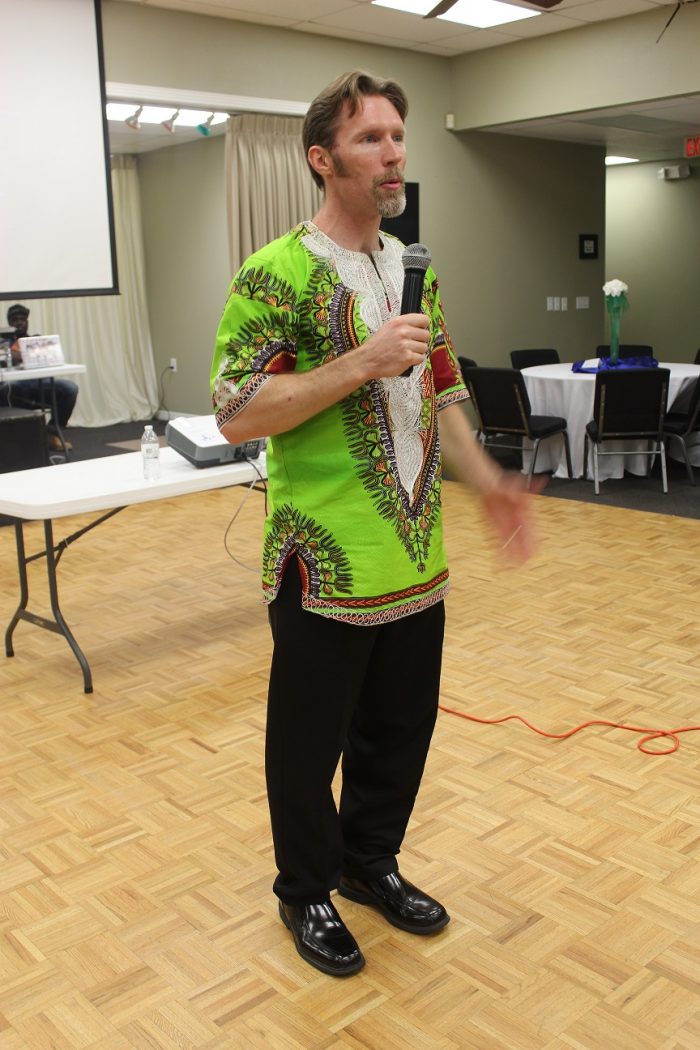 Restore Hope Aaron Pierce
The event started with welcoming the participants by the Master of Ceremony (MC), Mr. Dwight Short, followed by remarks by ALSOT president, Mr. Reuben Ndomahina who introduces the organization founding members and it's Executive.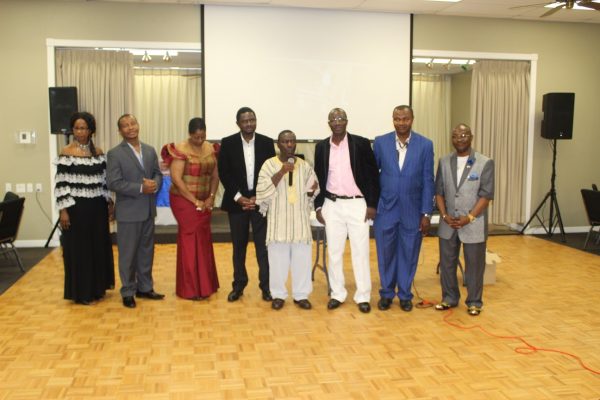 ASLOT Executive
The program continued with a presentation of Restore Hope's activities in Sierra Leone by the Guest Speaker, Mr. Aaron Pearce.  Restore Hope is a nonprofit organization based in Arlington Texas, and has been operating in Sierra Leone for several years to bring hope and sustained health to the nation, through unified strategies with Sierra Leonean and other international partners.  ASLOT became partner with Restore Hope during the Ebola epidemic outbreak.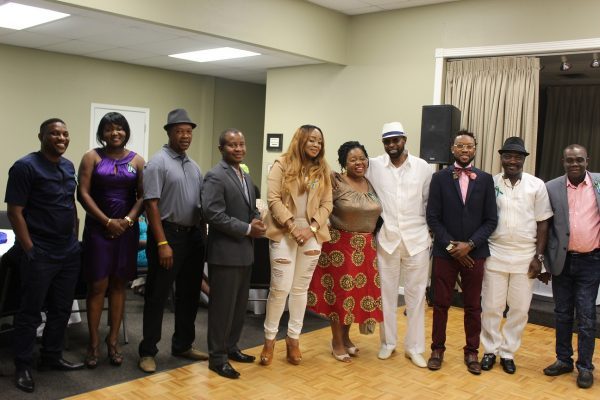 Participating community leaders
In his PowerPoint presentation, the Guest Speaker, Mr. Aaron Pierce, gave a rundown of his Organization's operational activities in Sierra Leone with its focus to help individuals and communities to realize and reach their potentials by connecting them with the healing and restorative forces.
He said that during the Ebola crisis, Restore Hope responded with a multi-faceted approach to prevent the epidemic from spreading.  Despite some restrictions by the government at the height of the crisis, he stated that their main operational headquarter in Sierra Leone, the Hope center in Jui, still operated to create awareness and assistance to the people by providing sanitation, counselling, and humanitarian aid.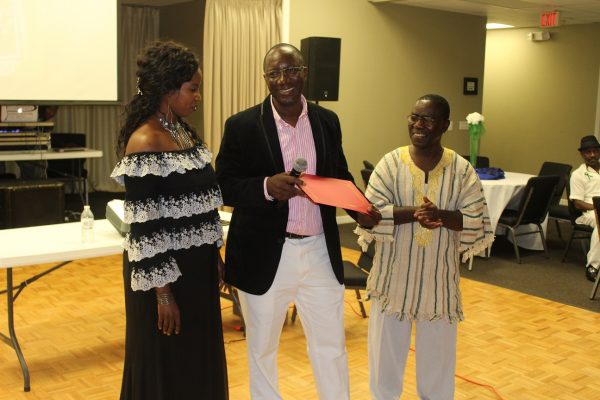 Mrs. Zainabu Koroma awarded
Mr. Pierce said that Restore Hope is currently serving the Western rural area in Freetown focusing on helping the nation in many ways including orphan and family care, landscape revitalization, healthcare enhancement, orphan sponsorship and more.  Their primary locations are in the township of Mile 91 and Bo.  While working in collaboration with the Ministry of Social welfare, the Hope center is continuing to provide services such as community sensitization and counselling, and have rendered training opportunity for all the staff including social workers for the hope center.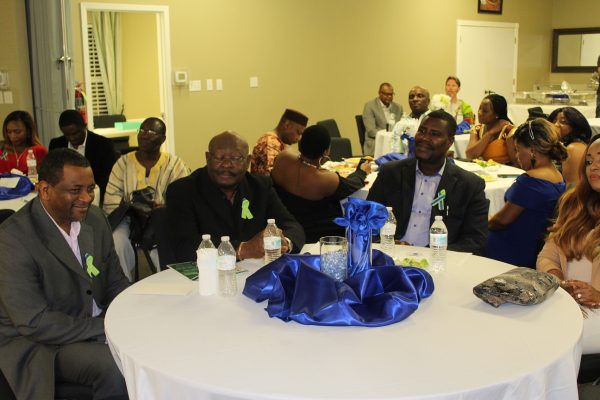 Participants with Lawyer Kaikai
Mr. Pierce expressed that ASLOT partnering with Restore Hope will make the Hope center actively address a wide range of significant issues and bring about new lives especially to the orphan children.  He referenced two kids, Arouna and Kadiatu, who were orphaned by the Ebola epidemic, came to live in the Hope center. The lives of these children have been transformed and today they have been integrated back into the society.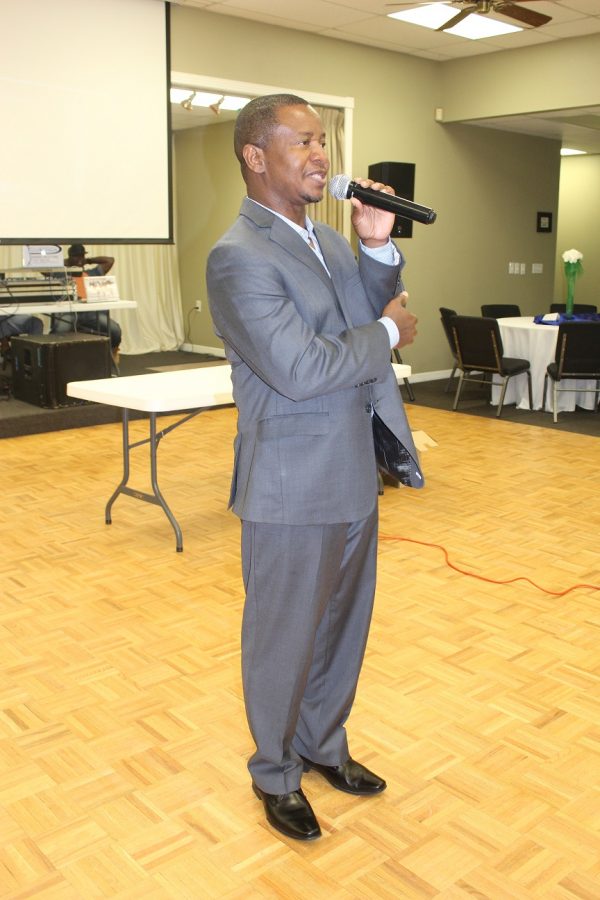 THE MC
The ASLOT President, Mr. Reuben Ndomahina reiterated that the Association of Sierra Leonean Organizations in Texas is upholding to the value of bringing people together to make a difference in other people's lives. We don't need any element of control and command by an individual. We need to work together to solve a common problem that provide us with a more complete picture of the problem, and can offer more options, synergies and solutions, than we could achieve by working alone, the President informed the audience.
Mr. Ndomahina believes that ASLOT's goals and objectives are not going to be achieved by ASLOT members alone, the entire community must involve by collaborating to solve these problems.  We need to be able to form and work with and through unity in our community to achieve a positive outcome. With every year comes the promise and hope of progress, we glean lessons from our past about what works and what we need to change going forward in our objectives, he added.
The ASLOT president appealed to the Sierra Leone community for anyone who possesses the skill, creativity, dedication and tenacity to move ASLOT forward even when it hits the inevitable rough patches to come forward and render a helping hand. Our mission is to build a culture where Sierra Leoneans feel they are part of one cohesive unit, he concluded.
Other activities took place at the launching were a raffle draw conducted by Mrs. Zainabu Koroma and Mrs. Florence Campbell. A surprise award initiated by the president, Mr. Reuben Ndomahina was awarded to Mr. Koroma. In appreciation of her rich contribution to the ASLOT, Mrs. Zainabu Koroma clinched the award of the Most Valuable Member.  The awardee is the wife of Dr. Alie Patrick Koroma, the organization's Secretary General.  All members of ASLOT believed that Mrs. Zainabu Koroma has rendered efficient, faithful and unobtrusive but invaluable service to the organization. Mrs. Koroma is a health care professional with a Master's degree in nursing, and a Nurse Practitioner. In accepting the award, she stated that the entire award belongs to all ASLOT members for their dedication, and contribution towards meeting the goals of the association.
ASLOT has been engaged with the community and have done several community events since its inception in 2015. It coordinated a fundraising campaign for the fight against Ebola. The supplies and money raised from different Sierra Leonean organizations, individuals, and churches as well as non-Sierra Leonean Organizations were distributed through Restore Hope, a partner organization that have a reliable operation in Sierra Leone. ASLOT has also organized its first ever Community Graduation ceremony in collaboration with the African Program in the University of Texas at Arlington (UTA), headed by Dr. Alusine Jalloh.  ASLOT is now a federally recognized Non-profit Organization.
The fundraising drive was positively evaluated by many participants and they expressed their interest in collaborating with ASLOT in its projects and activities. Some say, this diaspora movement is a better way to integrate professionals and children born in the United States, hence, the involvement of everyone and organizations has to be seen in a nationally mutually reinforcing contexts.
ASLOT forthcoming event is on July 1st 2017 (Community Graduation Ceremony) to acknowledge and appreciate both High School, and post-High School students and professionals who have graduated from various institutions in 2016 and 2017.