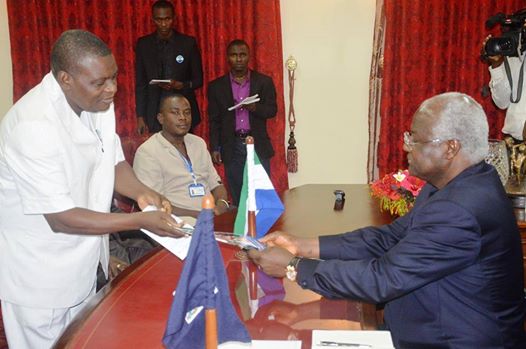 By State House Communications Unit
The Attitudinal and Behavioural Change (ABC) Secretariat Thursday 29 January presented their report/magazine and also informed President Ernest Bai Koroma about other activities the secretariat had been engaged in since Ebola struck. The ABC Secretariat was established to refine the mind-set and attitudes of Sierra Leoneans in exhibiting positive attitudes toward the growth and development of the country.
The president expressed appreciation for the supportive role being played by the secretariat in engaging groups, communities, chiefdoms and districts across the country in the fight against the Ebola virus disease. As the country is experiencing a reduction in the number of new infections, President Koroma stated clearly that the country is not yet out of the woods, and urged for vigilance in sustaining the marked improvement in the fight against the virus. He acknowledged the good work by the secretariat in implementing the mandate of the ABC. "A lot had been achieved since you took over the mantle of leadership, the president said, and encouraged them to continue with those initiatives." He also encouraged the secretariat to continue to target young people, saying that it would help them become good citizens.
He assured the secretariat of government's continued support in rolling out its activities and to also support the overall governance of the state.
ABC's Executive Director Dr Agibola Ivan Thomas expressed deep appreciation for the leadership and personal involvement of President Koroma in the fight against Ebola. "Your quality leadership is extraordinary and phenomenal," he declared. He went on to state that they had been working with the medical teams, pillar heads and coordination teams across the country as well as sensitizing and educating the people to abide by the medical precautions and guidelines established by the Ministry of Health and Sanitation. Dr Thomas also stated they are putting together a countrywide report which will be presented to the president in due course.
The Executive Director furthered that the magazine is a reflection of what had been happening in the country prior to the Ebola outbreak. The secretariat focuses on youth and schools and setting up youth committees and ABC school clubs respectively. He noted that they have been building strategic partnerships with institutions referencing the Anti-Corruption (ACC) and had developed a Memorandum of Understanding with the National Revenue Authority (NRA) to enhance good governance.
The Deputy Executive Director Madam Nannette Thomas and a cross-section of the staff were in attendance.
— with Razia Bash Kamara.