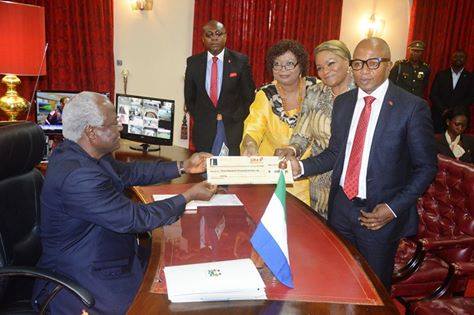 By State House Communications Unit
The United Bank for Africa (UBA) Thursday 29 January donated an additional cheque transfer of Three Hundred Thousand United States Dollars ($300,000) to support government in winning the fight against Ebola. It could be recalled that UBA at the height of the Ebola outbreak last year donated One Hundred Thousand United States Dollars ($100,000) to complement government's efforts to defeat the virus. It is worthy to note that this latest donation is part of the One Million Dollars donated by the bank to the three worst-hit countries of Liberia, Guinea and Sierra Leone.
Congratulating the UBA for winning the Bank of the Year Award conferred by the Bankers' Magazine in London, President Ernest Bai Koroma commended the bank for its support in the fight against Ebola, saying "You know a true friend when you are faced with a challenging moment like the Ebola outbreak". He underlined the significant role of the banking industry in driving economic growth, and extended thanks to the government and people of Nigeria for their tremendous role in the fight against the abating virus.
President Koroma recalled the huge role Nigeria played during the civil unrest in Sierra Leone, while appreciating the personal efforts of the Nigerian High Commissioner Madam Gladys Modupe Quist Adebiyi for her nationwide social mobilization and engagement of local communities in the fight against Ebola in the country.
Managing Director of the United Bank for Africa (SL) Mr Ndubuisi Ejiofor on behalf of the UBA Group presented the cheque to support the determined resolve of the government to fight the outbreak. Quoting a statement from the Chairman of the group Tony Elumelu; "Africa is our home and our destiny, and Africans need to place themselves at the forefront in the campaign to overcome this tragedy."
The Nigerian High Commissioner commended President Koroma for his tireless efforts and effective leadership in defeating the now weakening virus. She said the Nigerian Government had sent 111 volunteers to help fight the disease, adding that she had been personally engaging communities, quarantined homes and sensitizing the people to complying with the precautionary measures set by the Ministry of Health and Sanitation. She also proposed strengthening community relations between Sierra Leone and Nigeria in post-Ebola and creating the enabling environment for more Nigerian investors to participate in the development of the country.