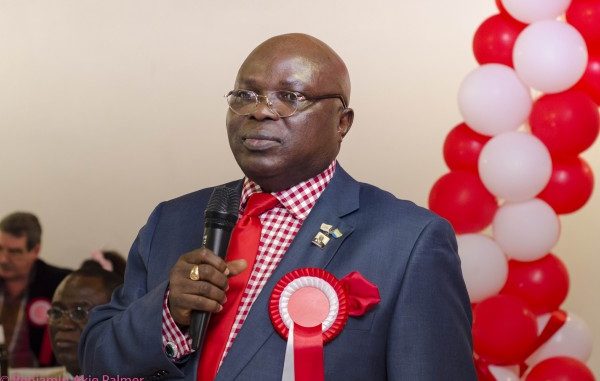 By Umaru S. Jah – Germany
Members of the Sierra Leone's All People's Congress party (APC) Germany Branch at the weekend showcased a vibrant picture of the party's strength at a colourful ceremony marking the inauguration of the branch´s newest baby "The APC Rhein-Ruhr Metropolitan Chapter."
The event which was staged in the Western City of Oberhausen, also included a fund raising to continue the fight against the Ebola Virus Disease in Sierra Leone.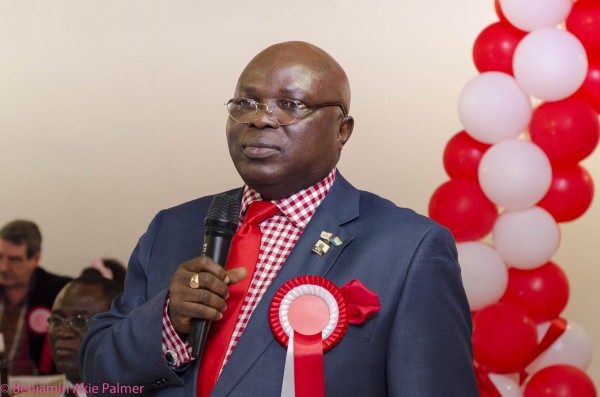 Hon. Logus Koroma making a statement
Sierra Leone's Minister of Transport and Aviation who doubles as the party's Coordinator for Diaspora affairs, Hon. Leonard Balogun Koroma, was in attendance, as Guest of Honour.
His message to his party loyalists and the people of Sierra Leone depicted commitment, perseverance and love for the country especially at these very difficult and challenging times.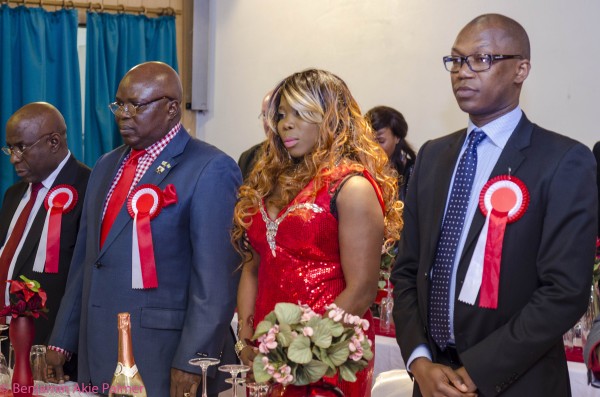 From L-R  : APC Chairman  Germany Branch M. S. Bangura, Hon. Logus+Koroma, Mrs. Fatmata Boedeker and Umaru S.Jah
The Honourable Minister encouraged his audience to be steadfast in their quest to increase the party's membership in the Diaspora and urged them to work relentlessly towards promoting the interest of the country. He noted that the inauguration of a new APC Chapter and the Ebola fund raising event will go a long way in restoring hope and confidence in the minds of the party membership at home and abroad.
 A cross-section of the audience 
The Minister assured his audience of a good working relationship and continued support from the party's National Executive in Freetown and added that his presence at the ceremony clearly demonstrated the importance and seriousness attached to such a function.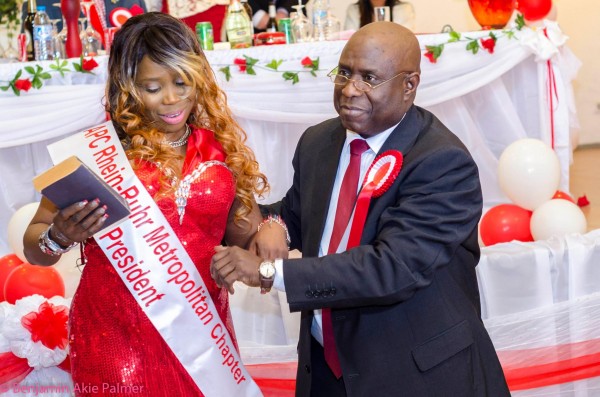 APC Chairman Germany Branch Mr. M. S. Bangura honouring the newly elected President
He implored the newly elected president for the new APC chapter, Mrs. Fatmata Koroma Boedeker to work in conformity with the party's ideology and in collaboration with the APC Germany branch, which according to him surpasses the newly formed chapter in Rhein-Ruhr Metropolitan.
The Minister reiterated his government's commitment towards the fight against the Ebola Virus Disease in the country and further called on all Sierra Leoneans to cooperate with bye laws imposed by the government to contain the virus in the country.
Pledges for the fight against Ebola in Sierra Leone were made while peace candles to reflect on the devastating consequences of Ebola were lit.