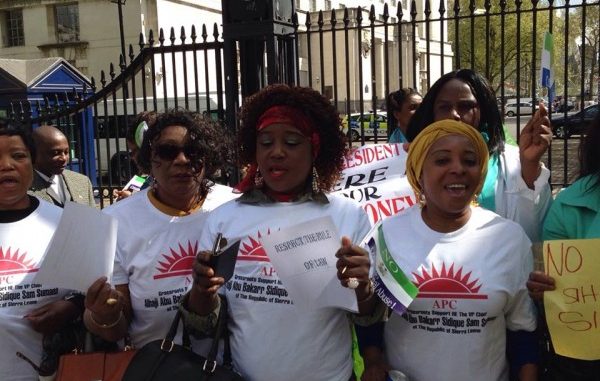 By Kabs Kanu :
Supporters of the opposition Sierra Leone People's Party ( SLPP ) tried to pull a fast one on the general public during their Independence Anniversary day demonstration against the Sierra Leone Government in London yesterday.
They wore T-shirts of the ruling All People's Congress ( APC ) to give the false impression that their poorly-attended demonstration was a rally that also involved disgruntled APC  members who supported their protest against the dismissal of the former Vice-President , Alhaji Sam Sumana . It turned out that the demonstrators in T-shirts were relatives of Mr. Sam Sumana, who have never been members of the APC UK/ Ireland Branch.
The APC-UK/Ireland Branch has protested against the deceit by the SLPP . Here is their statement below :
Statement From the Secretariat of APC-UK and Ireland Branch on Impostors
The Secretariat of the APC-UK and Ireland is concerned about some ill-motivated and misguided individuals who are putting on our party attire and masquerading as APC comrades at anti-APC rallies in London with the aim of causing mischief. These miscreants also used to infiltrate our meetings impersonating Comrades.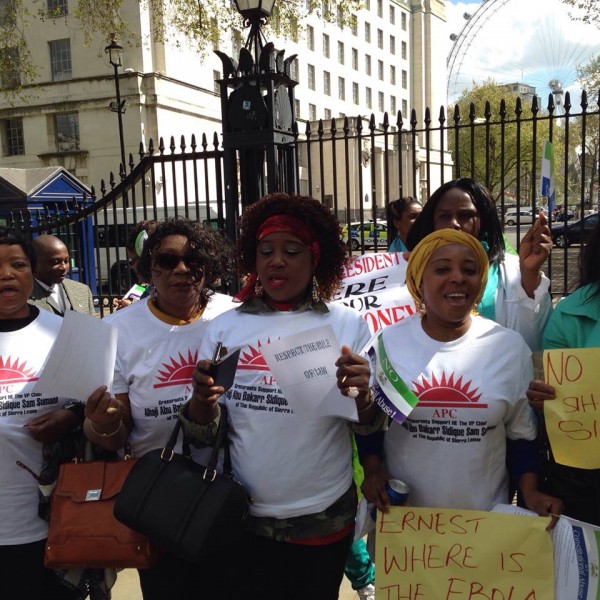 THE FACES OF THE IMPOSTORS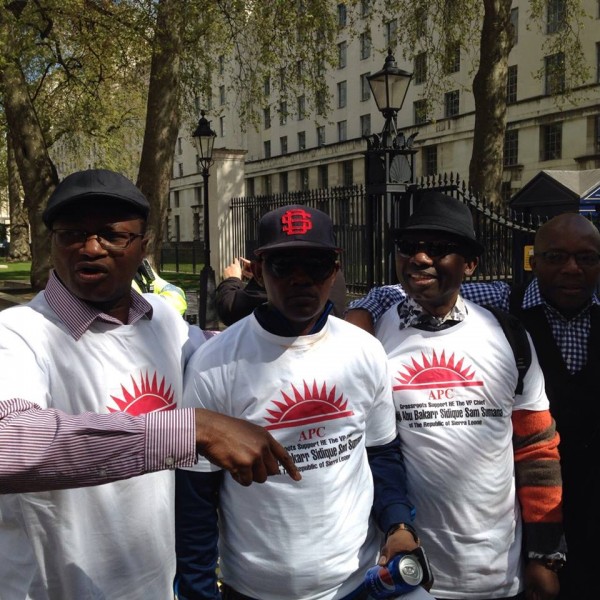 APC WARNS IMPOSTORS TO STOP WEARING THEIR PARTY T-SHIRTS AT DEMONSTRATIONS
The Secretariat therefore wishes to inform all that these unscrupulous imposters are in no way Comrades of our dear party as their names are not on our membership database. Thus, the public is advised not fall for their diabolic pranks. Whilst such mischievous individuals are warned to desist from such criminal acts forthwith or will face the full penalty of law.
Finally, the Secretariat wishes to express its sincere gratitude to the Women of Peace and all those who attended our very successful Pro-Government rally today in London.
Alpha Bai-Kamara
Secretary (APC-UK and Ireland)