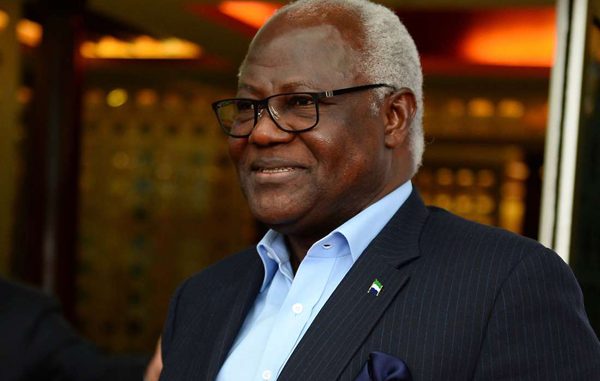 The Governor of the Bank of the Republic of Sierra Leone, Mr. Patrick Conteh, told the nation today that  Ex-President Ernest Koroma left an untouched reserves of  U.S. $507  (Three Trillion, Eight Hundred and Fifty Nine Billion, Two Hundred and Four Million Leones). Conteh made this revelation  at a news conference organized and held at the Ministry of Finance.
The briefing was called by the Ministry of Finance to update journalists about the recent developments. This information established the fact that the APC  left the economy of Sierra Leone in good shape.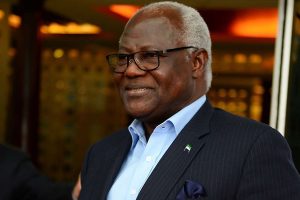 During a meeting with the IMF and government officials , President Bio painted a very distressing and gloomy picture of the economic state of the nation left by the APC Government . He said in part :
"Initial assessment by the Governance Transition Team reveals that my administration will be faced with the worse economic situation since independence. Before now, Government cannot pay monthly salaries without borrowing or heavy reliance on overdraft facility at the Bank of Sierra Leone which now stands at over 160 billion Leones. More serious is that today, Sierra Leone's external debt is at the level of 2.0 billion dollars and domestic debt is 4.9 trillion Leones. With the signing of new agreements on the eve of the elections, Sierra Leone is already in a debt crisis, which in collaboration with our development partners we must urgently address. In addition, the health of the banking system is significantly challenged by the financial conditions of two state owned banks that have huge non-performing loans, some to politically exposed persons."
But the revelation today by the Bank Governor contradicts Bio's statements and changed the impression that President Koroma left a healthy economy.
The social media has gone viral with Sierra Leoneans expressing anger that the new President, Mr. Bio, lied to them. READ SOME OF THE VIEWS :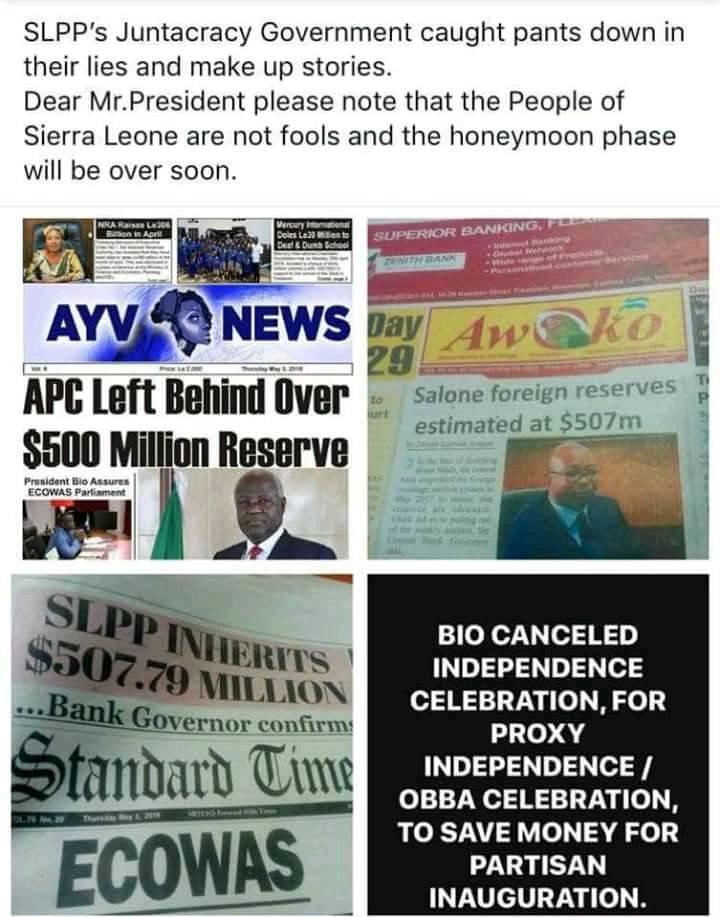 There is an iota of doubt that despite series of controversial statements on corruption , hajj gate , Ebola and mudslide saga and others surrounded the erstwhile Apc govt which has also placed the party to an untimely retirement could make such an exceptional performance with our Foreign Reserves . Many cynnics like myself was touched with shock over such a remarkable performance above the mark of half a Billion Dollars left by The Apc President Koroma s Administration in our central Bank coffers . This seems like an open challange posed to the New Bio s administration which has also registered exclusive economic break through from the internal revenue generating process on their first month . Despite few political hiccups like vigilantes attacks against innocent civilians , jungle justice by the slpp supporters through post elections violence , deep fracas within the Legislature and others which currently uphold president Bio s administration with a window dressing cabinet.
Congratulations Ex president Koroma for such an economic break through . And a big bravo to president Bio for such a good economic start.
____________________________—–
Dr. Sylvia Blyden reacts to latest Gimmick from a failing PAOPA Propaganda Team sharing a cooked-up article they say she authored*

👇
👇
👇
Good Day All.
I have seen the latest mischief from SLPP PAOPA who are sharing an article they claim I authored in 2005 against the APC. *It is a Complete FAKE from a bunch of failing propagandists!* I have NEVER in my life written anything like that.
They say it was on Facebook. So let them send the Facebook link. *Truth is that I joined Facebook in 2010* and did not even start using Facebook much until sometime in the year 2011. That is not even my writing style. Please discard. It is a fake write-up. Never authored by me. NEVER!!!!
It is no longer a secret that the 
🌴
🌴SLPP PAOPA Media and Public Relations methods are failing!! 
🌴
🌴SLPP PR is failing and so spectacularly too!!!
After spending 4 weeks saying APC and President Koroma stole all the money and left nothing (Bio said the APC left 'arara' meaning nothing!), the SLPP Finance Team called their maiden press conference yesterday which was chaired by Mohamed Rado Swarray, the Information Minister designate who is an accomplished and worthy gentleman. Also present was the controversial new Financial Secretary, Mr. Sahr Lamin Jusu who used to advise erstwhile APC Govt on all loans and debts. *Well, the best headline news which came out of yesterday SLPP Press Conference is that APC and President Koroma, managed the Sierra Leone economy so well that despite the post-Ebola shocks and the Iron Ore companies going bust, yet still the APC left behind over 507 Million Dollars CASH RESERVES* for SLPP to use from.
😄
😄
😄
😄
That is the highlight of the 
🗞
📰news which came out of the SLPP Press Conference. *So sweet!* So, it was not 'Arara' but 507 million dollars left as cash reserves. Please note that the APC inherited less than 200 million dollars or so, from the SLPP in 2007 but SLPP has now confessed it has received over 507 million from APC. 
🤑
💵
💸
💰
💵
💸
💰
💸
💰
💵
💸
💵
💸
💵
💸
💵
💸
💵
Kindly check the images shot of a few front pages of today's independent newspapers. They accompany this my update. So SLPP Press conference confirms the economy was not that badly mismanaged afterall by APC as they had led us to first believe. The headlines say it all.

😁
😁
😁
😁
Now, please fellow compatriots, since we all now agree that SLPP public relations is on a downwards spiral locally and subregionally, kindly help me out on something!
*Let us focus on asking PAOPA SLPP as to why they are so scared to respect the Will of the People?*
The Legislature (Parliament) is there to provide democratic oversight of the Executive arm of Government. Otherwise, with no proper democratic oversight by Parliament, the Executive will be run like how a military junta is run! Through decrees and extra-judicial acts including extra-judicial killings!
The *Will of the People* as expressed on March 7th 2018 and as further controversially declared to us by Nfa Alie on 4th April 2018, is for the APC to lead the process of Parliamentary Oversight of an SLPP-Led Executive Arm of Government. Such a wonderful, beautiful and awesome Separation of Powers, is the height of our democracy as envisaged by the 1991 Constitution.
💃🏼
🕺🏼Oh what a perfect stage that our democracy has now reached! One party dominates in Executive Arm and another party dominates in Parliament. Sweet and Beautiful democracy!
In the 90s, President Bill Clinton in America ran a Democratic Party led White House and Executive Arm in America whilst the American Parliament (Congress) was completely controlled by the Opposition Republican Party. Bill Clinton had nothing to hide so the Opposition Republican party Parliament did oversight of the Ruling Democratic Party which controlled White House and Executive Arm. No Injunction or Police was used to thwart the *Will of the American People* who voted for a Democratic party President but voted for a Republican party Parliament.
The exact same thing again happened with President Barack Obama who also ran his White House with the Opposition party controlling the American Parliament. This scenario is the best in a Democracy. Checks & Balances is great! The people benefit! Excesses in Executive Arm is minimized.
Sierra Leone's democracy is now ripe for exactly such a scenario and given that our new SLPP President, His Excellency Julius Maada Bio, is well known to have been engaged in 
🐿Squirreling of money into his foreign bank accounts when he was in government the last time, it is very good that the *Will of the People* has expressed that a strong APC Opposition should be in Parliament to provide the required checks and balances to prevent H.E. Bio repeating any more
🐿 *Squirrelling* exercises.
So, what SLPP PAOPA should be doing now, is not to cook-up fake articles and say Dr. Sylvia Blyden authored such fake pieces in 2005 but instead, SLPP PAOPA should try to convincingly explain why the SLPP has so internationally and locally shamed itself in just 4 weeks of the new dispensation because they vehemently fight to overturn the *Will of the People.*
Let SLPP explain to the world about why they are so scared of obeying the *Will of the People* which is for APC to lead the process of Parliament watching SLPP Executive.
APC MPs were elected to 
👁
👁 watch President Bio so that Bio does not repeat his 
🐿
🐿squirreling antecedents from NPRC days gone by.
Thanks for reading and please share this piece widely to debunk their PAOPA SLPP nonsense they are sharing. That nonsense they are sharing is not even my writing style. Let them go try again! I will be around again to bring up the issues. I handle issues which is why I don't react to personal attacks on me. I only handle issues.
Cheers to All. 
😁
😁
😁
😁
😁
😁
©️ *Dr. Sylvia Olayinka Blyden, OOR*
Thursday 3rd May 2018.