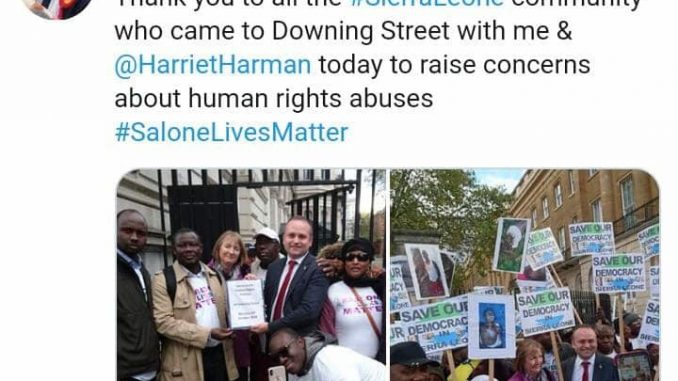 Monday October 29, 2018 was a red letter day in London as hundreds of Sierra Leoneans took to the streets to demonstrate against Sierra Leone's President Maada Bio. The demonstrators ended up at No.18 Downing Street, seat of power of the British Prime Minister , Mrs. Theresa May after which they presented a protest letter against President Bio  to the British leader.
The demonstration was covered by many Sierra Leoneans, one of whom,  Abraham Lakoh, reported  from London, on Monday, thus :
Salone Lives Matter" and join to "Save our Democracy in Sierra Leone."
By Abraham Lincoln: The Father of Democracy and the Voice of the Voiceless.
Happening now in England as "Concerned Sierra Leoneans" living in the UK and other parts of the world are gathering and demonstrating in the streets of UK in defence of Human Rights, the Rule of Law, Democracy and the Constitution of Sierra Leone. They are marching towards the British Parliament and to deliver a petition to the British MPs and also to highlight the gross human rights violations, silence ethnic cleansing, brutality, killing, raping, worsening undemocratic ruling that is happening in Sierra Leone.
As one of the British MPs, who  joined the protesters said, t they will make sure the Prime Minister and the Speaker of British Parliament  address these unfortunate incidents that are going on in Sierra Leone.
I wanted to take this most excellent opportunity to thank all the "Concerned Sierra Leoneans" that came out in large numbers and put Sierra Leone first to demonstrate against the unconstitutional rule of  the SLPP Government  in Sierra Leone. This has made a remarkable path for our democracy, and the people that are living in Sierra Leone to get their human rights and freedoms again including a free press and respect their fundamental human rights.
Ominously for the Bio Government, two leading British MPs–Neil Coyle and Harriet Harman ( Labor MP for Camberwell and Peckham -took part in the demonstration and delivered public addresses .