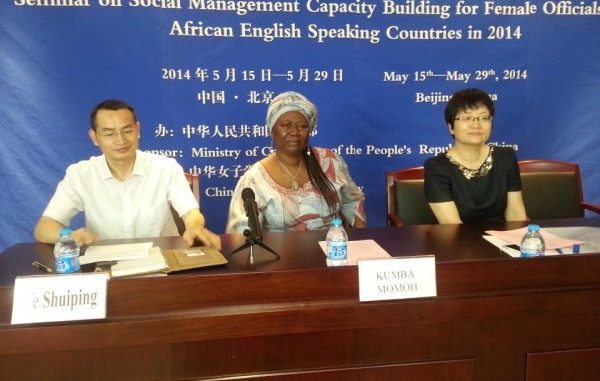 By John Baimba Sesay, Information Attaché China : 
Sierra Leone's Deputy Ambassador to the People's Republic of China, Her Excellency, Kumba Alice Momoh has called on a cross section of African women to be focused, committed and be dedicated to their core values so as to contribute positively to the growth of their respective countries within the continent.   She spoke on Thursday, 29th May at China Women's University,(CWU) at a ceremony marking the close of a 15 days long seminar on Social Management Capacity Building for Female Officials from English speaking African countries.
MRS. KUMBA MOMOH AT THE HIGH TABLE WITH CHINESE ORGANIZERS
The program, organized by China Women's University and sponsored by China's Ministry of Commerce, brought together women from over 12 African countries, including Sierra Leone, Liberia, Ghana, Namibia, Ethiopia and Kenya, amongst others.  Sierra Leone was proudly represented by Madam Elizabeth Manns, Women's leader for the governing All People's Congress and Madam Nancy Tengbeh, Permanent Secretary, Ministry of Tourism and culture.   Speaking at the event, Madam Kumba Momoh congratulated participants for successfully going through the seminar. She encouraged them to put into good use what has been learnt in china.  "I am proud of you all. You have represented us as a continent effectively",
MRS. ELIZABETH MANS AND ONE OF CHINESE HOSTS HOLD PLAQUE
Sounding optimistic about women's contributing role to Africa's growth, Madam Momoh said, this is the time that women should come together and be felt.  "This is our time as women. When you educate a woman, you have educated a country. I therefore encourage you to ensure, all what you have learnt is put into good use."   She, on behalf of all the countries represented, expressed Africa's appreciation to China for such training opportunities and particularly for the longstanding friendship between the two. China, she said, "has come to Africa to partner with us. They know our needs and today Africans are benefiting from the development support china is giving us."
ALL THE PARTICIPANTS
Liu Meng, Vice President of Chins Women's University, in her statement congratulated participants for what she referred to as "two weeks of intensive mutual understanding between Chinese and African women."   She said, they have a lot of "good memories and we have accumulated knowledge and experience and we were able to develop a vision for the future", she said.  Madam Elizabeth Manns from Sierra Leone, in her statement said the "experiences gained during the program were very enriching" She paid tribute to China Women's University for opening their doors to African women.
She also thanked the Chinese Ministry of Commerce and China Women's University for the training opportunity whilst assuring that they will put to use what they have learnt in order to "create an impact and facilitate change".   Other speakers included Ms. Mwolobi Martha from Uganda and Muthuuri Joyce Kanyiri from Kenya.   China Women's University is the oldest and most outstanding women's university in the People's Republic of China. It is specialized in women's higher education and research related areas. With currently over 5000 students, the University is under the administration of the All China Women's Federation.