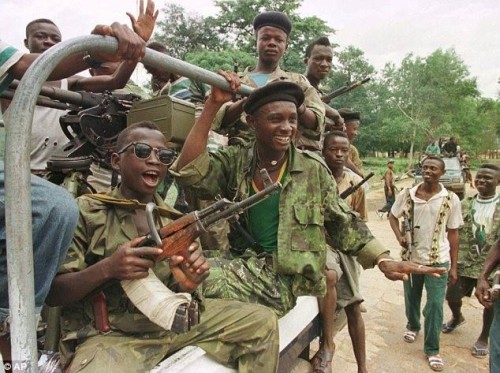 ON JANUARY 6, 1999, THE REVOLUTIONARY UNITED FRONT (RUF) ENTERED THE CAPITAL CITY OF SIERRA LEONE, FREETOWN, AS PART OF AN OFFENSIVE TO OVERTHROW THE GOVERNMENT OF THE SLPP. THE RUF REBELS ATTACKED THE CITY AND RANDOMLY MASSACRED ITS INHABITANTS. THE REBELS GUNNED DOWN FLEEING CIVILIANS, BURNED HOMES, COMMITTED RAPE, AMPUTATED LIMBS, AND GOUGED OUT EYES. THE RUF BROUGHT DOWN AN ALMOST ARBITRARY WAVE OF RUTHLESS TERROR ON FREETOWN THAT CLAIMED MORE THAN 7000 LIVES (HUMAN RIGHTS WATCH 1999). ONE RUF REBEL STOPPED A FREETOWN INHABITANT, JAMES KAJUE, AT GUNPOINT AS HE WAS TRYING TO FLEE THE CITY IN HIS STATIONWAGON WITH HIS FAMILY. THE REBEL DEMANDED MONEY FROM MR. KAJUE BEFORE ANOTHER REBEL APPROACHED THE SCENE AND SAID, "WHY ARE YOU WASTING YOUR TIME WITH THESE CIVILIANS? JUST KILL THEM ALL." THE RUF REBEL THEN EMPTIED HIS AK-47 INTO THE CAR, KILLING SIX MEMBERS OF JAMES KAJUE'S FAMILY, INCLUDING HIS INFANT GRANDSON (HUMAN RIGHTS WATCH 1999).
On January 6, 1999, rebel forces of the Armed Forces Revolutionary Council and the Revolutionary United Front (AFRC/RUF) invaded Sierra Leone's capital city, Freetown, in the early hours of January 6, 1999.
The ensuing actions of the invading forces were characterized by extreme violence on particularly civilians in the forms of rape, mutilations and summary executions, resulting in the deaths of over five thousand people and the displacement of hundreds of thousands of others.
This singular act dealt a shattering blow to the fledgling peace process that the country was pursuing at the time of the invasion.
There was, therefore, a need to take urgent and concerted action to salvage the situation by first repelling the invaders and then bringing the peace process back on the rail.
In response to this urgency, the civil society of Sierra Leone, under the aegis of the Civil Society Movement-Sierra Leone (CSM-SL), worked with all progressive forces, particularly the ECOMOG forces led by the Federal Republic of Nigeria and the Government of Sierra Leone, to drive back the marauding rebels in the face of extreme danger and difficulties.