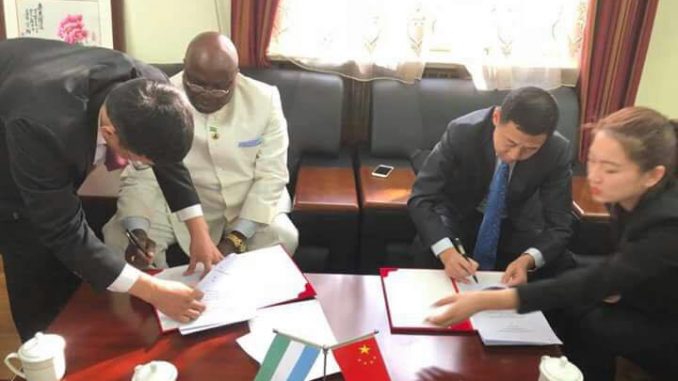 MINISTER OF TRANSPORT AND AVIATION , LEONARD BALOGUN KOROMA SIGNS MOU WITH HENAN GUOJI INDUSTRIES, CHINA FOR THE DEVELOPMENT OF THE KOYA NEW CITY AEROTROPOLIS AND MAMAMAH ECONOMIC ZONE ONE DAY AFTER SIGNING THE MAMAMAH INTERNATIONAL AIRPORT CONSTRUCTION AGREEMENT IN BEIJING .
Following the conclusion of the signing of the contract and loan agreements for the construction of the Mamammah International Airport between the government of Sierra Leone and China Railway International Group and China Exim Bank respectively in Beijing yesterday; Thursday 8th February, 2018, the Minister of Transport and Aviation Leonard Balogun Koroma today, Friday 9th February, 2018 signed a Memorandum of Understanding with Mr. Mingzheng XU , Chairman of Henan Guoji Industry group of China for the development of the New Koya City Aerotropolis and the New Koya Economic Development Zone for Free Trade and Manufacturing.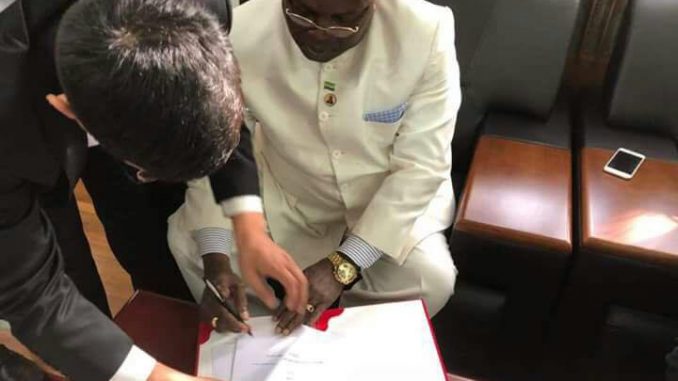 The MOU will give Henan Guoji Industries and 2 other companies , the mandate to conduct quick feasibility studies to develop a New Koya City model and a Koya Economic zone model by the private sector for approval by government.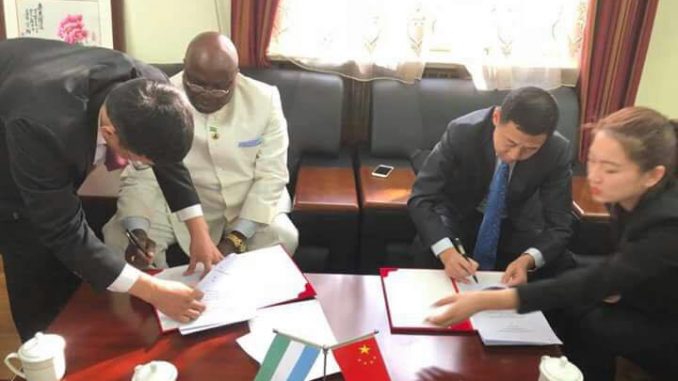 Once approved , the approved company will invite proposals from potential private sector developers to construct a city enclave on 21,000 ( twenty one thousand acres of land ) comprising a Presidential complex complete with offices and residences for the President and Vice President, a parliamentary complex complete with a new parliament building as well as offices and residencies for MPs, a Judiciary complex, complete with all levels of courts and residences for judges and magistrates, offices and residences for ministers and all government Ministries, departments and agencies, hotels which will be needed immediately the airport opens for business in 2022, shopping malls, business and conference centers, as well as affordable , middle level and high end level housing estates; essentially all the components of a new city.
The Economic Free Trade and Manufacturing Zone, distinct from the Koya municipality will be also developed for the establishment of tax Free Trade enclaves and factories .
The project will essentially expand the vulnerable, congested and old city of Freetown to a 50 mile radius .
As it is, Freetown cannot be modernized or expanded; the best chance for growth as we build the new airport is to build a new city simultaneously.