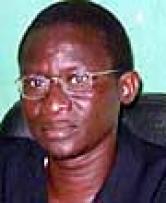 Tuesday October 6, 2004 

By KABS KANU :

When at first  a nation seeks to deceive, what a lamentable spectale it weaves. When a nation decides to continue sitting in darkness   at a time when the winds of freedom  and meaningful change are almost splitting ears with the ferocity of their landfall in a world that is increasingly becoming  unshacked ,  what a lamentable irony it evokes.

When at first  a government that has in its mouth the ideals of freedom decides to deceive, what a lamentable blow to the thousands of citizens who between 1995-1998  placed their lives on the line to see genuine democracy implanted in their land.

Let the Kabbah apologists  come with all their sophistry and logic about the case being a matter of the Rule of Law ( Even the Devil quotes Scripture to justify himself ) , we shall not be convinced . The President could have stopped the action .And we know that no true patriot of Sierra Leone will sleep soundly tonight as  one of the nation's most outspoken journalists, Paul Kamara , is bundled  through the shackled gates  of the notorious Pademba Road Prison , to start a 4-year jail term for writing an article against the President,  His Excellency Alhaji Dr.Ahmad Tejan Kabbah .

Paul Kamara has gone to jail today not because he actually broke one of the laws of the country.He has gone to jail because of the vindictiveness of our political leaders who have the legal system in their pockets. We say this because we see no reason for all these wild cat reactions to the articles written by the young man. Paul Kamara's problem is that he took our political masters seriously when they said in 1996 that they had restored freedom of  speech and democracy in Sierra Leone. What kind of democracy is this where journalists are not free to express themselves ?

First , on November 12, 2002 Paul Kamara was jailed 9 months ,  his newspaper FOR DI PEOPLE  suspended for 6 months , and an unbelievable Le .4.5 million fine imposed on him for calling  Appeals Court Judge Metland Thola Thompson "a thief",  "a criminal" and "a constitutional fraudster". Since Thompson was President of the Sierra Leone Football Association and performed rather discreditably in that position , leading to accusations  of embezzlement , where vindictiveness is not the order of the day, such insults should not have sparked the kinds of violent reactions we have witnessed. After all, have newspapers not written worse things than  that against public officials in countries where free press is being practiced ? Those who knew Tolla Thompson knew that he was not a thief or criminal or constitutional fraudster.For the sake of the nation's image and to avoid creating the impression that journalists are operating on a minefield in Sierra Leone , the insults should have been ignored. It is part of the rewards for public service.You would be insulted by journalists.

What did the newspapermen and women not write against President Bill Clinton during the Monica Lewinsky scandal ? He was called all kinds of names for engaging in oral sex with the young intern in the oval office, but Clinton overlooked all these insults and moved on . What about President George Bush ? How many times has he not been ridiculed in some of the American newspapers ?Yet, all these great statesmen decided that they were bigger than the chastisements of their character by the newspapers and other media operatives.Clinton could have conveniently sued Jay Leno or Conan O'Brien or Dave  Letterman  or Bill Mehrer of "Politically Incorrect"  fame who poked fun at him every night in their late night TV  shows .He could also have sued Chris Matthews who produces the hard-hitting "Playing Hardball".  But the greatness of the First World Presidents is their demonstration of the fact that they are larger than the mockery they receive in the press. Why can't our politicians and public officials learn to be tolerant ? When will our public officials stop being petty and vindictive ?

After Paul  had served his prison sentence, one could see that the system was out to get him. Police raided his newspaper office and confiscated all his newspaper equipment, including computers, printers, desk phones and even his car, to satisfy another judgement in a Civil Suit filed  against him by the same Justice Tola Thompson.

As if that was not enough , President Kabbah's lawyers pressed charges against him for an article entitled " Kabbah is a true convict" in which Kamara was responding to the inaccurate  statement made in Parliament by the former Speaker Justice Cowan that the President could not be called a convict because the Beoku-Betts Commission , which in 1968, found Kabbah guilty of embezzlement when he served as Permanent Secretary in the Ministry of Trade and Industry , lacked the power of a high court . Paul Kamara sought to demonstrate that President Kabbah indeed committed a serious crime and he even reproduced the White Paper released by the commission in which it spelt out its verdict.

Who, by the way, told the learned Justice that the commission lacked the power of the high court or that a man had only committed a crime when he is convicted by a high court ? During military regimes, Commissions of Inquiry are empowered to operate like courts. Kamara fell foul of the law when he tried to demonstrate these points and today he is behind bars , after Justice A.B.Rashid found him guilty of  two counts of  Seditious Libel for which he has been sentenced to 2 years on each count. What a parody and perversion of press freedom  ! ! ! ! !

Not many governments  who want to be taken seriously when they claim to be democratic still have in place these obsolete, unreasonable and draconian press laws that flourish in Sierra Leone. Our press laws are outdated and are out of steps with the realities of the new world where freedom of the press is fully enshrined in the constitutions of progressive countries.

It is a lamentable day in Sierra Leone.We have shown once again that we are not ready yet to join the comity of nations who have embraced democracy as the overriding guidepost of their socio-political dispensation.Only yesterday in another editorial on the U.S Presidential debates we were praising President Kabbah that he was better than most of our post-Independence leaders in the area of encouraging press freedom. We want to withdraw our econiums.We think that the SLPP  government is as dangerous to the welfare of journalists as previous governments. What a shame  ! ! !