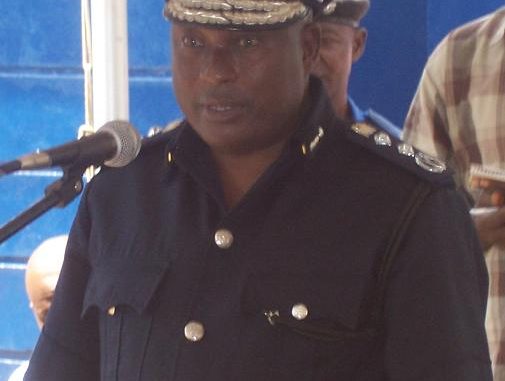 Thursday March 3, 2005
On-The-Spot report by Cocorioko's Tamba Borbor
Inspector-General Brima Acha Kamara yesterday said that he did not order the Police to shoot at any student. He explained that over the past two days, the Police had done a commendable job by not using excessive force and yet succeeded in quelling the riot that had ravaged the city of Freetown. He also denied that anybody was shot and challenged the Press to bring the evidence of this. "We do not expect people to cheer us when we are enforcing the law but the general populace will vindicate us as people still haveconfidence in us," he stated.
Fielding questions from Journalists at the weekly Police Press briefing yesterday afternoon at the Police Headquarters, the Inspector- General flanked by his Deputy Oliver Somassa and Assistant Inspector- General of Police Chris Charley, said that he was happy that no fatal incident had so far occurred and that he did not tell his men to go into the University campus. "My instructions were that they should stop at Harry Sawyerr's Hill where I was informed the students had a check point.
The IG refused to accept that anybody was injured by live bullets fired by them, since he claimed; he was not an expert to verify bullet wounds. "Only the medical people can do that" , he stated. He also stated that the police have their limitations as they cannot use excessive force and that there was no need for it at this time because they used only force equal to the resistance and that the command and control did not break down which would have required the kind of force people are talking about.
He however confirmed that he had received reports that about three people were injured and admitted at the Emergency Hospital. He also admitted that because of the cash-strapped situation of the police they do not have any of the modern equipment for crowd control like water cannons, rubber bullets and others. "We are doing the best we can under the circumstances and I see no reason why people should blame us as we are serving the nation and not any group of people," he declared.
He also disclosed that about 40 people had been arrested, while he has given instructions for the investigations to be sped up, so that those involved whether students or not will be charged to court by today. Deputy Inspector General Sommassa, whose vehicle was vandalized during the riots, said that the Police are spending millions of Leones everyday that this kind of situation exists. "We spend money on men, vehicles and other logistics which is not good for our economy", he declared.