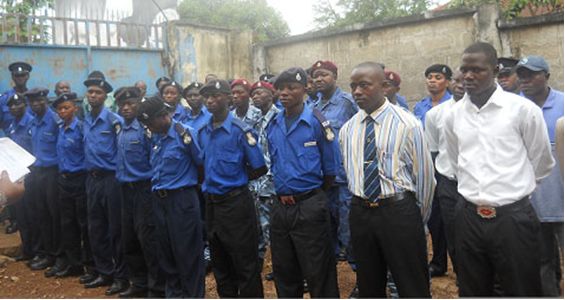 By SLP Media & Communications Unit :
International conflicts and local crises are increasing demand for police personnel from the Sierra Leone Police according to Assistant Inspector General of Police, AIG Kalia E Sesay, Director of Peacekeeping Operations. Addressing a press conference at the Sierra Leone Police Headquarters, George Street on Tuesday 13th May 2014, he expressed his satisfaction with the professional way in which Sierra Leone Police personnel have conducted themselves in missions abroad bringing nothing but good name for the force in every duty station they are assigned. Police personnel from Sierra Leone have been deployed in various theatres of operations across the world including Haiti and Somalia, Darfur. The United Nations and the African Union have been two international agencies that rely on the professionalism of Sierra Leone Police personnel.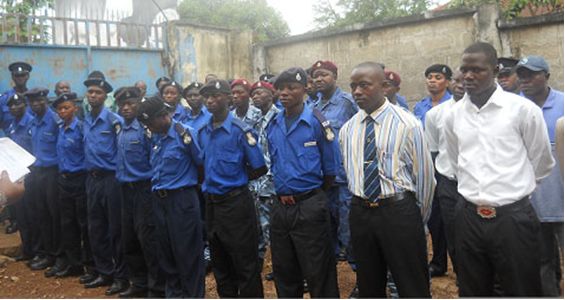 The Sierra Leone Police is now being required to commit what is termed "Formed Police Units." These are up to 150 police personnel from a single force to be deployed in the same theatre. The advantage of this type of deployment is the relative ease of communication and the security concerns especially when dealing with people of different cultures and traditions. For example, an all-female police unit has been requested for an operation to provide security cover for vulnerable Muslim women and children in a refugee camp. The customs of certain people restrict the interaction of women and men in any aspect of engagement when the people concerned are not members of the same family or kin. The all-female police unit will be a cultural and religiously sensitive provision for people already displaced from their normal existence on account of war and anarchy in their homelands.
As conflicts grow and the threat of terrorism increases, international peace keeping sets to become a growth industry and the Sierra Leone Police is well set to take full advantage of the experience and resources it attracts. In a recent request for logistical support to His Excellency the President, AIG Chris Charly, Director of Community Affairs made mention of the need for resources to meet the growing mobilization requirements for police personnel being sent away on deployment.
The existence of a Peacekeeping Directorate at the Sierra Leone Police is evidence of the importance attached to this area of policing and a mark of the significant contribution that international deployment makes to Police morale and welfare. From a force largely decimated to one that provides security cover on the international platform, the Sierra Leone Police have come a long way in a very short time. It has proved itself to be a force for good doing better overseas, protecting the young and vulnerable. In the event, AIG Kaila Sesay stressed that the Sierra Leone Police play a pivotal role in peacekeeping overseas and that the past experience of war and conflict here may have provided the proper background for them to understand the suffering that their charges are now going through. The Sierra Leone Police has moved from a force seeking and benefitting from international assistance to one that is now giving international assistance by securing the peace on the international stage.