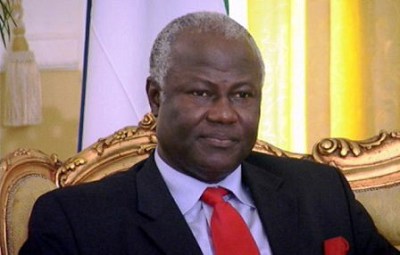 By KABS KANU :
When somebody has class and character, it cannot be hidden. We often say that character is like smoke. You cannot hide it. And this has been clearly demonstrated by President Ernest Koroma many times . This time, President Koroma is demonstrating class and character to ensure that the late President Ahmad Tejan Kabbah is given a fitting farewell by the nation.
By giving the late President Kabbah the honor due him at death, President Koroma has proved that his own politics, unlike others', is not built around the pillars of deception. He is a very clean politician, who does not care if he is accorded the same honor that he richly deserves. What is important to the President is his conscience and he has gone great lengths many more times to prove that he governs Sierra Leone by his conscience.

President Koroma has a healthy self-image and he believes that nothing is taken away from him if he grants the former leader of the main opposition party a favourable platform to exit the world . You have to look at the governance styles of some of the people around who call themselves bosses to know that President Koroma is unique. Most other leaders would never share the stage with their rivals. Never . They believe that they are subtracting something from themselves when they praise their rivals or offer them the stage . Not President Koroma. He believes that those who know what he has done for Sierra Leone will always give him his own due honor and praise. He does not believe in having his own lamp shine by blowing out another man's . You find that it is the governance style of many bosses to blow out other people's candles so their's would burn.
I stand accused but not many sitting presidents would feel free to accord the man they took over from the kinds of praises President Koroma has poured on the late President Kabbah since he died. We have seen it so many times in other countries, save the United States of America.
President Koroma is redefining and cleaning up Sierra Leone's politics. The APC man must see something good in the SLPP man if he deserves it . The SLPP man must see something good in the APC man if he deserves it. But frankly, this is not the kind of politics we are accustomed to seeing in Sierra Leone. And this has been one of the drawbacks to our national development. DIRTY, UGLY and POISON POLITICS that does not give any credit whatsoever to the rival has been our mode of politics in Sierra Leone . But President Koroma has started changing that kind of devious politics.
It is all about class. President Koroma has class and he has demonstrated it once again when it mattered most. For the leader of an APC Government to say of the leader of a former SLPP Government that he deserves a pre-eminent place in the history of Sierra Leone is a show of class and character that must not pass without notice. I hope our politicians who are used to pouring nothing but scorn and dishonor on their opponents will learn from President Koroma.
This is not to say that the late President Kabbah does not deserve the praises he is getting from President Koroma even before he died . The question here is how many more politicians would have had the class , character, self-respect and self-honor to give credit to another opposing politician in the Sierra Leone we know ?
None.
And this is why President Koroma is so unique.
He is not only the best President we have since Independence when it comes to socio-economic and political developments. He is a man of class who would give credit where credit is due, even to an opposition politician.