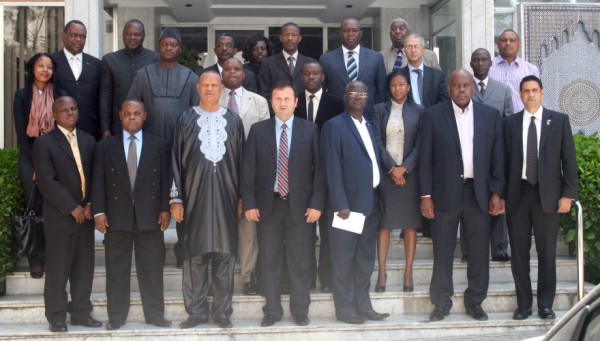 Amadu Femoh Sesay
Information Officer-Cabinet Secretariat
The Secretary to the Cabinet and Head of the Civil Service, Dr. Ernest Sahid Alie Surrur and the Senior ICT Officer Aloma John Konuwa have attended a five day international Conference on 'ICT as a Modern Solution to Security Threat, Early Detection and Prevention of Crimes' from 23rd-25th June, 2014 organized by the African Training and Research Centre in Administration for Development (CAFRAD) in Tangier, Morocco.
The conference which attracted more than 20 participants was organized for decision and policy makers in public/administration and governance from Africa, Latin America and Arab countries.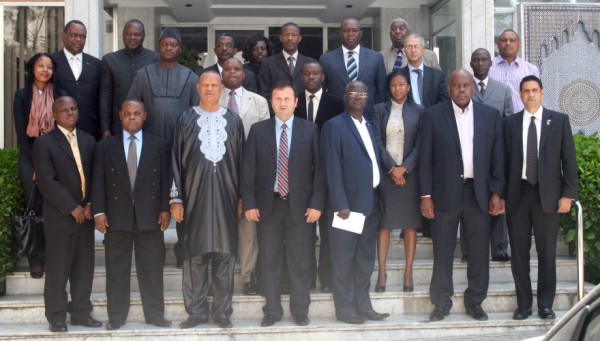 Group photo: From front role, Dr. Surrur third from left
Dr. Surrur disclosed that the objective of the conference was to assemble Information and Communications Technology (ICT) and security experts and stakeholders in Africa and beyond to examine the various problems of insecurity. The Secretary to the Cabinet said the conference also examined the current trends of insecurity and criminality in Africa.
Outlining the issues discussed, Dr. Surrur said holistic National ICT Policy Strategy; digital forensic labs; strong ICT security systems; Police National database and biometrics; close-circuit TV (CCTV); face recognition software; ICT should be a prerequisite for employment; effective use of ICT tool in crime prevention in the judiciary and court systems; training and retraining the regular and combat officers in the use of ICT in crime prevention and detection were the key approaches discussed and adopted.
He suggested that trans border crimes call for trans border measures which requires collaboration and co-operation among countries to ensure national security.
He observed that the gathering was an opportunity for ICT and security experts to design the most cost effective way to apply their expertise in fashioning out the best strategies of using modern ICT for the early and prompt prevention, detection and investigation of crimes at various levels.
Welcoming the participants, the Director General of CAFRAD, Dr. Simon Mamosi Lelo said the conference will help participants to use ICT as a modern tool in the detection and prevention of cyber crimes in their countries. He stated that countries cannot succeed in security without the use of an effective and efficient ICT system.
Dr. Lelo said the objective of CAFRAD is to improve on the skills in the public sector within Africa countries. The Director General called on the participants to use ICT to strengthen their security network noting that security is not only a concern for central governments but also for individuals within the countries.
Representing the Nigeria Public Service Institute, Dr. Dauda Chika said the advancement of technology has come with opportunities and challenges and new methodology of crime with huge knowledge in the use of application of ICT. Dr. Chika stated that ICT has enable criminals to take advantage of weak state institutions and flawed regulatory systems in Africa to commit illegal activities with impunity.
He added that it was necessary for law enforcement bodies in Africa to adopt their domestic crime fight strategy to the cyberspace and use modern ICT in crime defection and prevention. Dr. Chika observed that deployment of ICT in crime prevention requires political, economic, technological and managerial catch up to fill the gaps created by years of misgovernance.