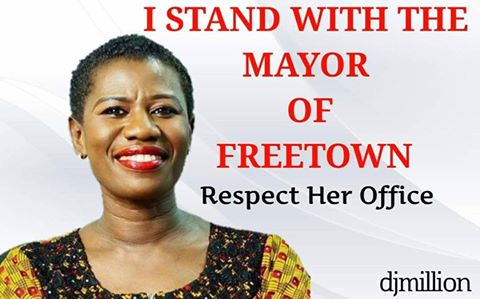 The beating of the Mayor of Freetown, Her Lordship Yvonne Aki-Sawyer has provoked a firestorm of shock and horror from Sierra Leoneans all over the world. These violent attacks on officials and supporters of the opposition All People's Congress ( APC)  have made the Sierra Leone People's Party ( SLPP )  very unpopular so fast, especially when President Maada Bio refuses to make any comment or take action.
READ SOME OF THE VIEWS OF SIERRA LEONEANS :
When Society lacks morals: This is unacceptable and beyond political rhetorics. Immediate Actions must be taken regarding the verbal and physical Assault on our Freetown Mayoress. WAITING.
Kevin Kingsley-Williams I would argue that it is of sufficient gravity to warrant a strong presidential response. The president seems reluctant to speak out against unlawful behavior that seems to have increased post elections.
Wilfred Wright O shock horror! Someone uses "PAOPA" as their election slogan, uses violence and all kinds of intimidation to get to the top and then we act surprised when this is taken as a tacit "all clear" to continue with similar acts of violence?
Femi Anthony Agreed. This is the first real test of the SLPP administration. How will they react ?
Kevin Kingsley-Williams Why is it taking so long for an official reaction, or did I miss it?
Othame Kabia Kevin Kingsley-Williams, you didn't miss the official reaction – you simply failed to recognise it. The official reaction is silence followed at times by finger-pointing.
Othame Kabia Given the "thread" of thuggery, this matter needs more than just the minister saying something.
I am completely perturbed from competent sources yet ascertain , if the Mayor of Freetown City Council – AKI SAWYER now become the latest spate of mob justice under the SLPP government through their Vigilante Group of Supporters. Why a highly placed personality like this woman should become a victim of humilation and social menance under our unique democratic society ? Can some one help with cogent update, for it is practically sad and incredible for our Democratic System under president Julius Maada Bio's government ……TOO SAD !!
7 hrs ·
 I am apolitical. However, in my capacity as a citizen of Sierra Leone I feel that the government should have by now issued a statement acknowledging and condemning the attack on the Mayor of Freetown
9 hrs ·
 Sierra Leone: The attack on the Mayor is NOT an isolated event and will definitely get worse. The hooligans of the SLPP won't accept our culture of peace and stability.
 This disgraceful and unconscionable affront on Her Worshipful Mayor Yvonne Aki-Sawyerr of Freetown should not be allowed to go unpunished. She is the Mayor of all Freetonians and as such should be accorded the highest respect. Lawlessness and violence, especially against women, should not be tolerated.
 This is inexcusable and unacceptable! We cannot and must not, under any circumstances allow violence and intimidation to fester and dominate our Political dispensation!!!
Mohamed Turay
What is projected by these people is deep rooted hatred that has built up for decadese with the strong desire to humiliate and destroy anyone that oppose their flaws when they are in charge. This relates to tribal and regional sentiments that have the tendency to destroy people that have other opinions. Sierra Leoneans are very hypocritical for failing to call out the naked exhibition of rigional and tribal hatred perpetrated against so many people just one month in this administration. When will this stop?
Ibrahim Dosty
I said it long time ago.In certain areas in Sierra Leone opposing Bio might lead to an unlawful deathl.It is on the way coming.violence and thuggerism is on the rise.for some Sierra Leoneans such behaviour is normal and acceptable in their view of democracy.you can be molested or be killed for opposing Bio.
Renee Taylor-Pearce So sad. It is not about any political party. The federal government must condemn this act. Bunch of lawless people, unemployed youths, idleness, thieves all in that vicinity. Praying for her. She needs bodyguards.
Abdul M. Iscandari Even though the commentators here are more or less the same you'd expect, it is not lost on us that this is not the first act of pre/post elections violence that should have prompted a form of Executive response. This is the kind of behavior that breeds vigilante justice, and ultimately national chaos. Clearly, we have a populace that is uneducated, unemployed and lacks hope. It is clear this serves politicians well. They are not in a hurry to improve their circumstances. Otherwise, who would be throwing stones on their behalf? Even more so now, those of us who believe we can see through this, need to get involved. Otherwise, history is about to judge us as the most ineffective generation. Band aid solutions are what is being offered and nothing to show for it.
Politics is a parchment for individual prosperity rather than alleviating the standard of living of ordinary citizens.
Phanta Haja Kamara-Mansaray This act is totally unacceptable authorities concern should take immediate action to stop this barbaric act.
Abdulai Sankoh Mystic Of-dwazak They succeeded in kenema they went free, they have also succeeded against the Freetown Mayor they went free.
My sympathy to the Freetown Mayor who was verbally and physically assaulted yesterday, knowing those guy's as knowledgeable as the mayor is, I think she should have find vigilant security, especially when going on. I will bet anybody that nothing will happen to be perpetrators who attacked the Freetown Mayor yesterday like it happened in kenema. Madam Mayor please find gallant security for your safety.
Sidom look na dog name.
Natin dem nor dae du dem.
Abdul Majid Kamara Condemn such behavior instead of making excuses. I have noticed something about some SLPP supporters they are like Trump supporters, they so bitter even though they won the elections. why all this bitterness and thuggish behavior towards your fellow citizens and government officials? And please to tell me APC did it first which is an excuse for your party to do the same which makes your party no different than APC. If this is the case where is the change SLPP was talking about?
Othame Kabia Femi Anthony, true. And a test for all of us. Silence is tacit approval and we must note those who fail to anything.
We cannot have this thuggery which sadly and frighteningly seems to be gaining traction as a tactic under a political strategy predicated on spreading fear and enforcing compliance.
Moses Ben Kanu She become the latest spate of slpp holigans. Sad for our democracy n national cohesion
Tejan Fofan · Friends with Nasser F Ayoub and 9 others
This is a common sense, who will do that her sir, it must be people from the ruling party, who are so much in confidence, they will attack a whole mayor and get way with it, no other person with it right head will wanted to assault a Mayor, if they don't think they will get way with it!! That's my opinion!!
Karim Sallia
I think d president should take drastic step to end up this madness election is finished we may now forget about this violence and go ahead with our transformation.
Abdul Tejan Kargbo Aaaaaaaaaah Mama Saleone, yu sorry bo. May the Almighty Allah help AND REDEEM us from this arrogant nonsense by  SLPP ex- RUF & KAMAJORS STREET BOYS.
We need the government to take great action against the cooperate but trust me again the government will not do anything again because is the slpp members and supporters are behind this all so we are calling on all the international communities that give power to the junta slpp government, now i see the reason why kky call them as the junta democracy this has never happened in the history of Sierra Leone for a mayor to be beating by the ruling slpp government God bless Sierra Leone.
Moses Samura
Didn't I tell you that people will pay the price for electing a known human rights abuser. Well, this is just the tip of the iceberg. I can not imagine why people are so naive to compensate a leader who participated in the arrest, torture and killing of innocent people without trial with the highest office of the land. The calamity we inflict in ourselves is hard to bear. This is the new direction to self destruction.
Am just so speechless. Her lordship the Mayor Yvonne Aki-Sawyerr.. It is well. May God give you more grace to fulfill the vision you have for our beloved mama Salone. As for those Hooligans the wrath of God go fall on them.
Ramaskey Tholley
We pray God will send us an angel that will unify this tiny nation
Lance Al-hassan Kabba
It really sad and all form of violence should be condemned and the perpetrators brought to justice. Dis do me are do you culture is really bad for our progress and development as a country.