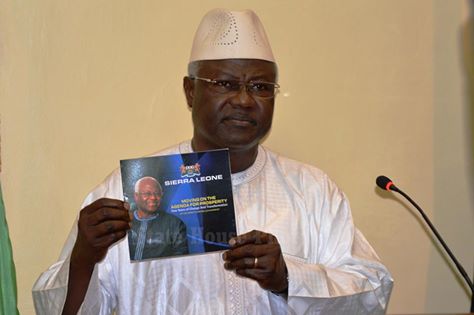 By KABS KANU :
President Ernest Bai Koroma is determined to secure the future of the nation by producing a Sierra Leone free from backwardness, poverty, inequality and wretchedness. It was for this reason that he initiated the AGENDA FOR CHANGE, which has metamorphosed into the AGENDA FOR PROSPERITY.
The Agenda For Prosperity provides a golden opportunity for building a strong and durable economy and it is the road map for infrastructural development and sustainable transformation of our country in the areas of electricity, education, health , human resource development ,agriculture, women's empowerment and the overall improvement of the quality of life of our people.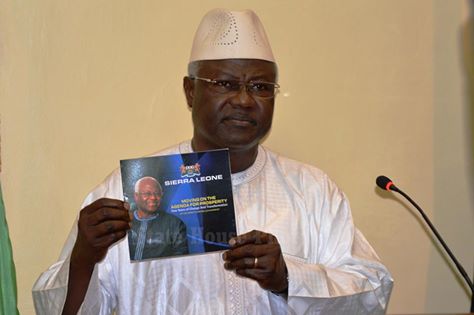 With Ebola outbreak now over, it is time for Sierra Leoneans to put on their national thinking caps once again and refocus their attention  on what they can do to help President Koroma continue the implementation of the Agenda For Prosperity . This should be our overriding passion if we love our nation in truth.
We have a President who is development-focused and development-oriented. President Ernest Bai Koroma is a huge blessing to our country. He came at a time when even some misguided journalists in our neighbouring countries were describing Sierra Leone as a stone age country. Today, with only eight years of President Koroma's stewardship, Sierra Leone has accomplished far more infrastructural developments than most of her West African neighbours. We have roads and buildings now that are a pride to our nation and before the ebola outbreak we had one of the fastest-growing economies in the world.
It is imperative on every Sierra Leonean at home and abroad to support the Agenda For Prosperity. This is the time for all Sierra Leoneans to get together and support President Koroma in his quest to build a stronger and better Sierra Leone.
It is time to put an end to our traditional negativity , fault-finding and blame games and seek the betterment of our nation.
What President Koroma has in mind for Sierra Leone–National Development and National Pride–will certainly stand the test of time and will leave immortal footprints in the sands of time in our nation.