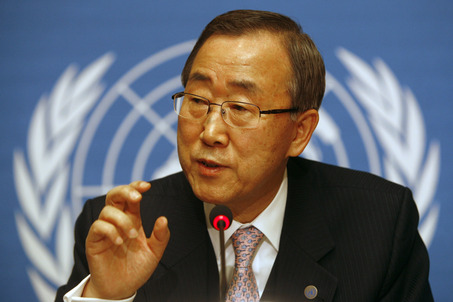 ---
The U.N. Secretary-General, Ban Ki-moon, has expressed support for the establishment of a Multi-National Joint Task Force (MNJTF) to fight Boko Haram insurgency in Nigeria's North-East region.
Ban made the expression while addressing newsmen on Saturday, on the sidelines of ongoing African Union Assembly of Heads of State and Government in Addis Ababa.
The News Agency of Nigeria (NAN) reports that the AU Peace and Security Council at its 484th meeting, held on January 29 at the level of Heads of State and Government, adopted a resolution to establish an initial 7,500 troops to combat the Boko Haram insurgents.
The resolution was sequel to a proposal presented to the council by countries in the Lake Chad Basin Commission (LCBC) and the Republic of Benin.
The LCBC countries – Nigeria, Cameroon, Niger and Chad – made the proposal for the continent to raise troops that could defeat the terrorist group currently expanding to borders of Cameroon and Chad.
It is believed that no fewer than 13,000 persons had been killed, while more than one million others displaced, since the group began attacks on villages in Borno, Yobe and Adamawa in 2009.
Ki-moon said: "I strongly support the AU's decision to establish a Multi-national Joint Taskforce, which is consistent with the UN Human Rights Policies.
"Regional and international efforts must focus on protecting communities in Northern Nigeria and across borders.
"The more than one million internally displaced people and refugees must be able to return home. We must stop the advance of this terrorist group.
"Once again, I repeat my call for immediate and unconditional release of those who have been abducted, particularly the girls from Chibok."
He noted that collaboration on peace and security had been one of the most important elements of the U.N. partnership with the AU.
He disclosed that more than 80 per cent of U.N. peacekeeping operations were deployed in Africa.
"The U.N. Assembly in 2006 adopted a global counter terrorism strategy. Under this, we have established implementation taskforce and I, myself, established counter terrorism centres,'' he said.
According to him, addressing terrorism and extremism will uphold and respect human rights and protect the dignity of human lives.
The UN scribe said that Boko Haram, ISIL and all other terrorist groups had committed unspeakable brutality against humanity, adding that regional countries alone could not handle the situation.
"Therefore, I am asking that those terrorists should be addressed by regional and international coordination and cooperation.
"At the same time, the military means may not be the only solution. There should be a very careful analysis of the root causes why this kind of terrorist and violent extremism is spreading; it is another very important aspect.
"I am urging the whole international community which has capacity and influence to join hands as the U.N. is ready to fully cooperate with the AU,'' he said.
Ban Ki-moon expressed support for Nigeria and other African nations holding elections this year.
"The AU has strong record of supporting democratic transitions. The AU and U.N. will work together to support member states to organize peaceful and credible polls.
He urged African leaders and others around the world to respect constitutional and legal power limits by listening to their people and respect their aspirations being expressed through democratic processes.