By State House Communications Unit :
Although the countries worst affected by the Ebola virus disease have made tremendous progress in containing the outbreak, the embers continue to glow as they gear up to get to and sustain zero Ebola infections.
As a result, President Ernest Bai Koroma alongside his Liberian and Guinean counterparts, Elen Johnson Sirleaf and Professor Alpha Conde were treated to a luncheon by the Corporate Council for Africa with the sole aim to assess the current situation in the region and find out what needs to be done to encourage the American private sector to do business in the three countries worst-hit by the epidemic.
Immediately following the luncheon, President Koroma took interviews from the CCTV USA, Thompson Reuters, BBC USA, Washington Post and VOA.
The president also hosted at his Willard Hotel Suite Congresswoman Karen Bass who had been very instrumental in garnering support for Sierra Leone's efforts to contain the Ebola virus disease. They discussed the country's plans for post-Ebola recovery and the outcome of the meeting with US President Barack Obama.
On Friday 17th April, President Koroma and delegation attended the opening session of the World Bank Group and International Monetary Fund Spring Meetings where the post-crisis strategy of the Mano River Union was laid out by the three presidents. Sierra Leone's President Ernest Bai Koroma was particularly singled put for commendation by the UK and the Director of the Centers for Disease Control and Prevention Dr Tom Frieden.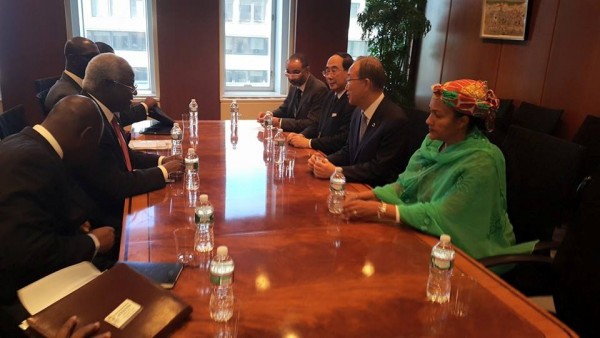 UK's Permanent Secretary of Department for International Development (DFID) Marck Lowcock described the National Post-Ebola Recovery Strategy articulated by President Koroma as excellent and assured of the UK's support to see it through.
Furthermore, the three heads of state of the MRU held a joint press conference with the World Bank Group President Jim Yong Kim and UN Secretary General Ban Ki-Moon. They all urged for vigilance to cover the last mile of the journey to get to and stay zero Ebola infections and the need to avoid complacency at all cost.
According to President Koroma, the road to get to zero could be bumpy and winding, saying that the countries affected by the outbreak are still not out of the woods yet; a phrase that was emphasized by CDC's Dr Frieden.
The president also had a bilateral meeting with UN Secretary General Ban Ki-Moon where the latter further registered his personal endorsement for the wonderful presentation made by President Koroma earlier today. He stressed on the need to intensify contact tracing and surveillance to get to zero for a swift post-Ebola recovery and reaffirmed the UN's commitment to stay until the epidemic is defeated.
President Koroma is also expected to visit the CDC later today.
Stay tuned for more updates on this visit.
SHCU©2015