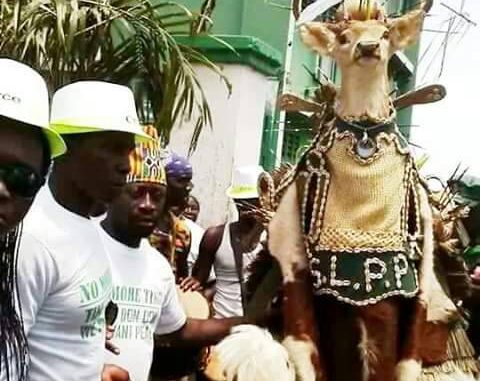 Culled from Whatsapp
SLPP is the only political party in Sierra Leone that has a legalise masquerade debul that is assembled in its party's headquarters in Freetown.
Arie Wuteteh or Arie SLPP or Arie Paopa is the name of the masquerade.
Watin den want talk but masquerade parade now??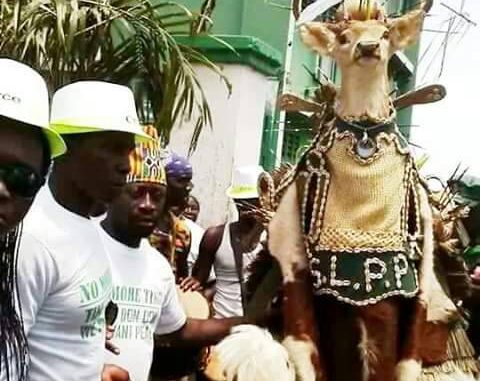 Eastern Paddle showed appreciation for the dynamic leadership of President Koroma. APC party rallied with it to show solidarity to their Chairman and Leader, President Koroma. All this was done yesterday without any major incident of violence or interruption of peace.
Meanwhile, we could recall 27th April 2016, when the SLPP funded Arie Wuteteh was unlawfully out in the streets of Freetown, the Anti Corruption Commission office, Metropolitan Building, Central Police Station, Police Headquarters and Freetown City Council buildings were all vandalized. Tens of cars were destroyed.
The ACC in a press release after the SLPP act of thuggery recorded a huge account of destroyed properties of over One hundred million Leones.
The SLPP then Acting Publicity Secretary, Philip Tondoneh admitted on national television that the party had indeed destroyed millions of state properties. Basically because they were not given permit by the police to use the streets of Freetown.
Reacting by then, Police Spokesman at the time, ASP Brima KAMARA said on national TV that it was not that issued out masquerade permit to applicants. He said the police had told the SLPP to apply to the Ordeleh society but the SLPP refused.
Philip Tondoneh then reacted to the statement of the police spokesman by saying that SLPP is bigger than the Ordeleh Society and they would not subject themselves to the dictates of the Ordeleh Society.
The Secretary General of Sierra Leone Odeleh Society was also on TV explaining how he was seriously manhandled by SLPP thugs for merely explaining to them reasons why the Arie Wuteteh should not take to the streets of Freetown.
SLPP being an ungrateful political party, tens of youth who were asked to come out to dance the Arie Wuteteh, and later arrested and charged to court, were abandoned by the party. Those youths spent months in correctional centers. No legal representation on their behalf.
It was the SLPP hierarchy that called innocent youths to unlawfully dance their Arie Wuteteh. When those youths were arrested by the police, the SLPP abandoned them in the face of justice.
APC was out yesterday and everywhere was peaceful. So if SLPP supporters are ranting about APC masquerade rally, it is just evidence that SLPP supporters are dishonest to themselves.
*Forgetting that the SLPP is the only political party in Sierra Leone that has a legalise devil.*
The photo is attached.
Feel free to share.