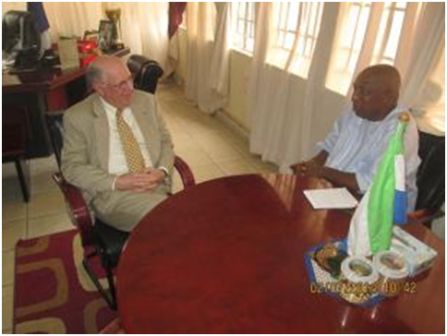 "Sierra Leone still lingers in my mind"—AMB Hull. – The former United States Ambassador to Sierra Leone Thomas N.Hull, now the Acting Deputy Chief of Mission Embassy of the United States of America, has during a courtesy call on Sierra Leone's Ambassador to The Gambia Amb. Soulay Daramy, said that the visit to Sierra Leone of the wife of the Vice President of the United States of America Mrs. Biden, is an indication of the high regards the government of the USA attaches to President Ernest Bai Koroma and his APC led government.  (Photo:  Ambassadors Hull and Daramy)
According to Amb Hull, since the end of his tenure of office in Sierra Leone, a country that has always lingers in his mind, he has been following Sierra Leone's developmental strives, referring to them as positively gradual, interesting and development orientated."There is a lot of development going on in your country and it will take people of like minds as that of the President to contribute to nation building. Your former Foreign Affairs Minister, Zainab Bangura has her country at heart and has always influenced high powered delegations to visit Sierra Leone" he said. He referred to President Koroma as a man of vision and love for his country.
He informed that Mrs.Biden will be coming together with the Head of the USA –AID  Program for a two day working visit  from July 06 to 07 2014 and that they will be meeting with the President and discussing wide range of vital issues. Amb Hull further went on to say "this visit is a big opportunity for the country to open up and put her case through for international assistance, as doubtless the Vice President is very influential"
Sierra Leone according to Amb Hull is doubtless pushing on and her tourism industry must be given concern and priority to take its rightful place side by side other developments.
Asked by Amb Daramy about the Peace Corps Programe, Amb Hull said that Sierra Leone should endeavor to utilize the Peace Corps Services in other areas as well.
 "Mr. Ambassador your country is at a view point and can be used as an example for all to see how far you have gone from a country at war to one that has put her 'shoulder to the wheels' to make perfection real" Amb Hull pointed out.
Amb Soulay Daramy expressed his delight on behalf of President Koroma, to receive a good friend of Sierra Leone, whose country has stood by us and still assisting us.
"My President and the people of Sierra Leone look forward with eager optimism to such a high power visit" he said.
With regards boasting of Sierra Leone's tourism industry, Amb Daramy said he want to acquaint himself with The Gambian tourism industry and be able to copy from then, to be in the position to improve on our own tourism market.
Amb Soulay Daramy promised on behalf of his Boss the President to keep in touch with the US Embassy in Gambia and Guinea Bissau considering them as partners in development and nation building.
Ambassador Daramy, is yet to present his credentials to President Yahya Jammeh but has officially been told to feel free and go about his diplomatic duties accordingly.
---