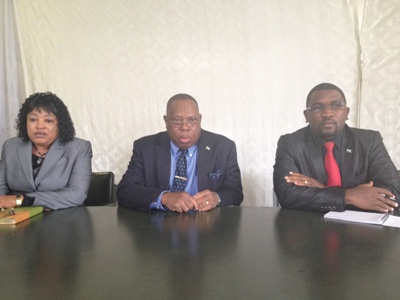 Mr. Ismael Koroma, the new Deputy Ambassador of the Sierra Leone Embassy in Addis Ababa was officially presented to the home based and local staff at the Chancery on Monday 17th March 2014 by Sierra Leone's Ambassador to the Federal Democratic Republic of Ethiopia, the African Union and the Economic Commission for Africa, His Excellency Mr. Andrew Gbebay Bangali.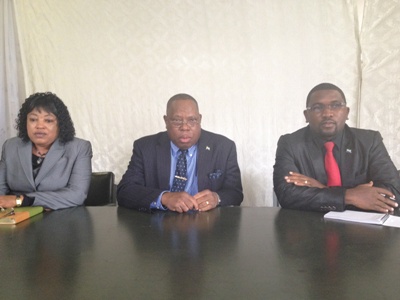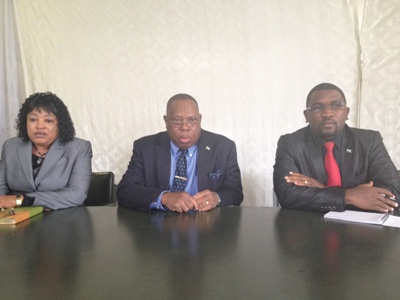 Mr. Koroma arrived in Addis Ababa via Nairobi on Friday 14th March 2014 to take up his appointment. The incoming Deputy Head of Mission was a Mass Communication lecturer at Fourah Bay College, University of Sierra Leone cum media practitioner and erstwhile National Secretary General of the Sierra Leone Association of Journalists or SLAJ.
He replaces Mr. Amadu Koroma who was cross posted to the Sierra Leone Permanent Mission in the United Nations in New York as the country's Deputy Permanent Representative.
Ambassador Bangali described the newly posted Deputy Chief of Mission as a young, dynamic and spirited diplomat who has indicated his willingness to learn his new job.
Responding, Mr. Ismael Koroma expressed his happiness and appreciation to be with all Embassy staffers as the departure of Ambassador Bangali would be a happy and sad moment for him.
Sad as he put it, Ambassador Bangali is leaving to take up a new assignment at headquarters as the new Director General and Ambassador-At- Large at the Foreign Ministry.
"We will surely miss Ambassador Bangali," Mr. Koroma said.
He encouraged all the Embassy staffers to work as a family and also as a team.
The Deputy Head of Mission said: "I believe in consultation. This is a learning process for me. We are going to learn from each other and humility pays. I want the other Missions to emulate our good, bright and shiny example."
Mr. Koroma described the transitional process in the Addis Ababa Mission as very crucial in his diplomatic career with the coming of the new Ambassador His Excellency Osman Keh Kamara after his predecessor would have left.
The event which was climaxed by the introduction of staff members was coordinated by Mrs. Juliana Fallah, the Acting Counsellor and Head of Chancery of the Sierra Leone Embassy in Addis Ababa.
Abdul Karim Koroma
Information Attaché
Embassy of the Republic of Sierra Leone
Addis Ababa
Ethiopia
Email: akk23222@gmail.com