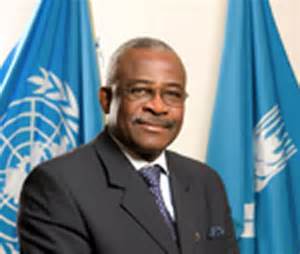 MAFFS Communications Unit
The Minister of Agriculture, Forestry and Food Security Prof. Patrick Monty Jones plays host to a long time colleague and mentor, President of the International Fund for Agricultural Development (IFAD), HE Kanayo F. Nwanze.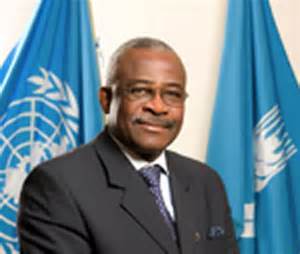 The IFAD President is on a tour of West African sub region countries of Liberia and Sierra Leone from his base in Rome Italy. IFAD is a UN system organisation dedicated to ensuring that agriculture is a central part of the international development agenda, and that governments recognize the concerns of smallholder farmers and other poor rural people. HE Nwanze has been a member of the World Economic Forum's Global Agenda Council on Food Security since 2010. He was previously Director-General of the Consultative Group on International Agricultural Research (CGIAR) Africa Rice Center for a decade, where he was instrumental in introducing and promoting New Rice for Africa, or NERICA, a high-yield, drought- and pest-resistant variety developed specifically for the African landscape.
It is no doubt that the visit of the IFAD President is so important for Sierra Leone as this visit is being seen as an endorsement of HE President Ernest Bai Koroma's decision to appoint  Prof. Monty Jones as Minister of Agriculture in Sierra Leone. The two day working visit to Freetown will be marked by several high level engagements and meetings with senior government officials, Ministers and the President of the Republic at State House. The IFAD President was hosted at a reception last evening at the Aberdeen suite of the Radisson blu Hotel where he was treated to traditional dance and music from a contingent of the Sierra Leone Dance Troupe.
It is significant to recall that IFAD was one of the key international agencies that supported Sierra Leone during the Ebola crises and helping to raise awareness for the scourge of the disease and also arranging to leverage funds for post Ebola reconstruction. In this regard, the IFAD President's trip to Sierra Leone and Liberia will underscore the organisation's commitment to pro-poor reconstruction and engender support for His Excellency Dr Ernest Bai Koroma's key priority initiatives for Sierra Leone's recovery.
Since it was created in 1977, IFAD has focused exclusively on rural poverty reduction, working with poor rural populations in developing countries to eliminate poverty, hunger and malnutrition; raise their productivity and incomes; and improve the quality of their lives. The Fund has designed and implemented projects in very different natural, socio-economic and cultural environments. Many IFAD-supported projects and programmes have been in remote areas, and have targeted some of the poorest and most deprived segments of the rural population. IFAD has recognized that vulnerable groups can and do contribute to economic growth. These groups have shown that they can join the mainstream of social and economic development, provided the causes of their poverty are understood and enabling conditions for development are created.
In a release by IFAD's press office, HE President Nwanze was quoted as saying that "Ebola has had an enormous impact on the lives of rural people – many of whom are small-scale farmers who could not grow food or earn a living during the epidemic," He continued to point out that "If we do not channel our investments to the rural areas now, these farmers may have to migrate in search of work. This could compromise the future food security of these countries."
President of IFAD will hold a joint press conference with Minister of Agriculture, Forestry and Food Security at the Ministry's conference room, Youyi building on Friday 6th August before he leaves for Liberia.