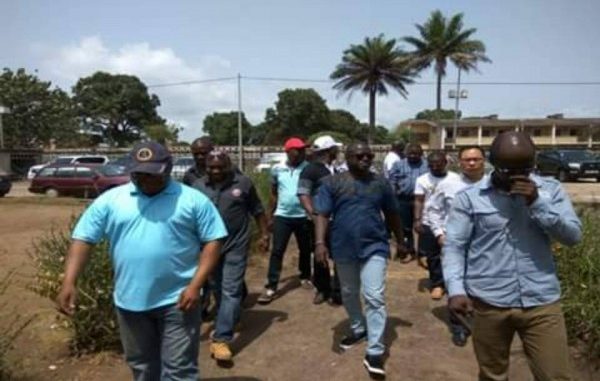 By Abdul Kabia :
The Minister of Information and Communications, Hon. Mohamed Bangura  and his Deputy, Hon. Cornelius Deveaux, senior members of the Ministry, the Sierra Leone Cable Network and ECOWAN and other experts over the weekend –Saturday14 and Sunday 15 May, 2016 –visited all the fibre optics ADM sites in the North Region to ascertain the level and quality of work done in spreading the fibre optic cable across the entire country.
Led by the Huawei Project Supervisor James Cobba and team, Coordinator of the ECOWAN Project Mr Sewah, and the Kelly and Norton (KN), the first point of inspection was the ADM site at Jui. Mr Sewah gave an explanation of the intricacies of the job and showed the Ministers and entourage the engineering matrix of the Jui ADM site.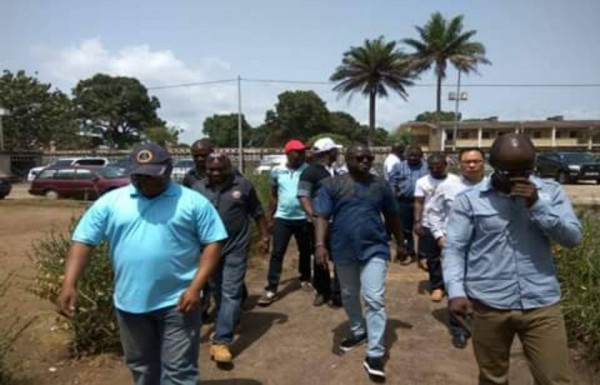 The delegation then drove and converged at the ADM site at Mile 38. In a similar exercise the Ministers and entourage were taken on a conducted tour of the fibre optic ADM site. The various machineries were opened for them to view the engineering works that were done.
The entourage also inspected the fibre optic ADM sites at Rogbere, Lungi, Lunsar, Makeni and Masingbe.
At Lungi, the Project Supervisor James Cobba told the delegation that the fibre optic ADM co-exist with Sierratel in the same building and feeds on Sierratel energy (electricity) and air condition. Senior officials in the Ministry however suggested that the ADM be provided with its own air condition and power source.
At Lunsar, Mr Cobba led the delegation to what he referred to as the outdoor site. A thorough inspection was done by the visiting team. Suggestions were made for a backup generator and adequate security to man the site.
Moving towards Lunsar, it was realised that the fibre cables were passed over head instead of underground. The delegation expressed fear of bush fire as proximity of the cable to the ground was not much.
In Makeni also the ADM site is housed in the Sierratel structure sharing the facilities of Sierratel.
At Masingbe, the entourage inspected the ADM site. They observed that there were some leakages from the fuel tanks and suggestion was also made for a backup generator.
At the end of the tour on Sunday, the Minister expressed satisfaction over the work done so far. He however advised that a small technical team be put together to highlight the minimal lapses for amendment. The Chinese team consented to correct their mistakes on the project.