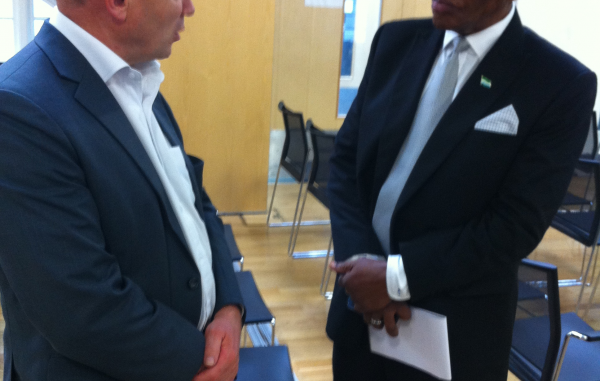 Sierra Leone's High Commissioner to the United Kingdom has called on Sierra Leoneans to put aside their differences and join hands in the fight against Ebola.
His Excellency Edward Mohamed Turay said this is the wrong time for finger pointing and political propaganda and called on his compatriots to stop politicising the Ebola outbreak in the country.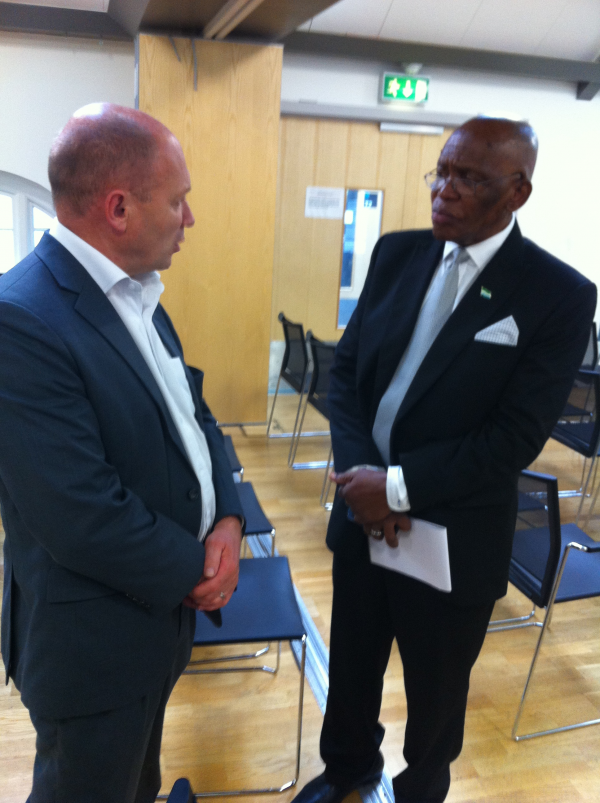 Photo: His Excellency Edward Mohamed Turay chatting with medical expert
"This is a very difficult and frustrating period for the government and people of Sierra Leone and the only way we can overcome this Ebola virus is when we come together as a nation and join the fight against Ebola."
A lot of Sierra Leoneans in the diaspora have embarked on a campaign of sabotage and political propaganda in a bid to score political point in the Ebola virus, but according to the High Commissioner, they have only succeeded in making ridicule of themselves.
"Ernest Koroma loves his people, he loves his country, that was why he has succeeded in transforming Sierra Leone to a large extent in so short a time before the outbreak of the Ebola; beside it is not only our country that is affected by Ebola but also Guinea, Liberia, Nigeria and lately Senegal."
The High Commissioner wonders why Sierra Leoneans especially in the Diaspora should embark on such practices rather than strategising to contribute in the fight against Ebola.
Turay expressed disappointments over the attitude of some Sierra Leoneans who for whatever reasons have embarked on hiring people in faking videos aimed at blackmailing their country.
"Nobody will fall for these cheap propaganda – beside, do you expect these foreigners that you hire to make these blackmailing videos which you post on social network sites to feel about you?"
He said funds donated for Ebola are not handled by the Government but by the special task force known as the Ebola Operating Committtee comprising of representatives of WHO, UNICEF, Red Cross, KPMG and other stakeholders and therefore the question of government officials transforming Ebola funds into private use is just too ridiculous and vindictive."
Public Information Unit, Sierra Leone High Commission, United Kingdom