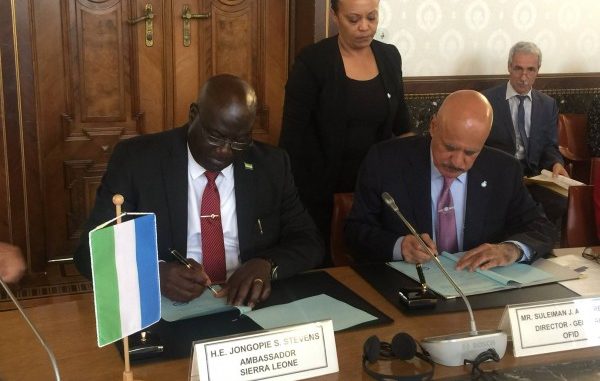 By Umaru S. Jah — Information Attaché, Germany
Sierra Leone's Ambassador to the Federal Republic of Germany also accredited to Austria and Italy has, on behalf of the government and people of Sierra Leone, signed a $ 20 Million Dollar Loan agreement with the OPEC Fund for International Development (OFID), in Vienna, Austria on Tuesday 14th June 2016.
The money will be used to finance the rehabilitation of the Bo-Bandajuma highway, linking Sierra Leone to the Liberian border.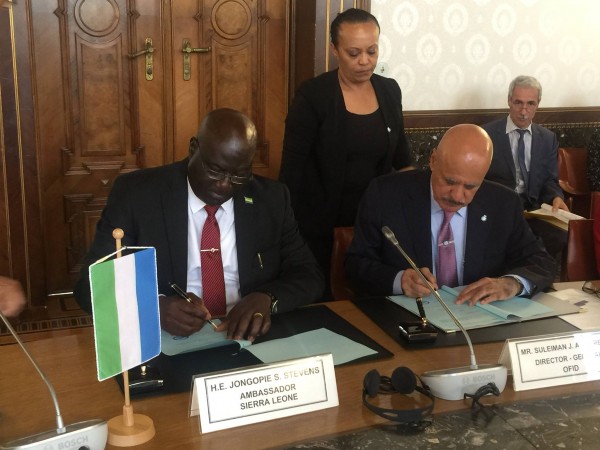 Re-echoing government's commitment in ensuring that the project will be implemented with the technical conditions and budget provided, Ambassador Stevens expressed his government's gratitude to OFID for their support in providing the bulk of the resources needed for the rehabilitation of the Bo-Bandajuma highway.
He stressed the importance of the project in providing efficient nation-wide road transport access to Bo and Pujehun districts, regional access to member states of the Mano River Union (MRU) and the Economic Community of West African States (ECOWAS). He added that, the Bo-Bandajuma highway also connects vast areas of rich agricultural potential, enormous mineral wealth hence the need for its proper maintenance to ensure sustainable economic growth in the country.
The Ambassador further called on OFID to continue with their assistance towards Sierra Leone's development agenda, with emphasis on the post Ebola economic recovery programme. He reiterated the project appraisal mission undertaken by OFID and UNIDO, aimed at financing the construction of a mini hydro in Moyamba district.
"I wish on behalf of my government and people of Sierra Leone to implore you to use your good offices and ensure the speedy execution of the mini hydro project in Moyamba district, which is pertinent to our development aspirations," he stated.
OFID has been extremely instrumental in providing support towards the complete rehabilitation of the Hill Side by Pass Road (Phase 1) and the Kenema-Pendembu road projects. The Matotoka-Yiye road, which is also co-financed by OFID, is underway.
After the signing of the loan agreement, OFID Director General, Mr. Suleiman J. Al-Herbish, said Sierra Leone and OFID have strong and long lasting relations. He described the signing of the loan agreement as exceptional in the history of OFID and Sierra Leone as according to him, "We are celebrating our 40 years of existence and good relations since we started our first partnership with Sierra Leone in 1976."