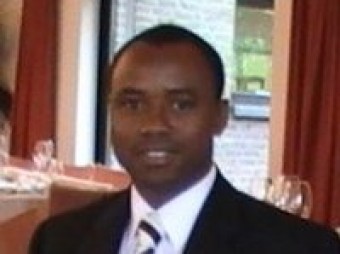 The two Deputy Permanent Representatives at the Permanent Mission of Sierra Leone to the United  Nations over the weekend travelled all the way from New York to Maryland to console the Kamal family for the recent sad passing of the former Attorney General and Minister of Justice,  Hon . Abdul Serry Kamal. The legal luminary died at the John Hopkins Medical Center in Washington DC on Saturday January 18, 2014.
DPR (LEGAL) AMBASSADOR OSMAN KEH KAMARA 
Ambassadors Osman Keh Kamara ( DPR  Legal ) and Amadu Koroma ( DPR Political Affairs ) expressed their deepest condolence to the widow , Mrs. Margaret Serry -Kamal and family members and extolled the impressive contributions the fallen former Attorney General made to the cause of the nation-building in Sierra Leone. They described his death as a big loss to the nation .
DPR ( POLITICAL ) AMBASSADOR AMADU KOROMA
In response, Mrs. Serry -Kamal expressed her appreciation of the gesture  and thanked the two ambassadors for taking time off their very busy schedules at the UN  to visit the family during this difficult moment of grieving . She said that their visit was a manifestation of their care and concern for the Serry-Kamal family and for Sierra Leoneans in general.
Present during the visit was legal practitioner , Mr. Abubakarr Kalokoh , who also thanked the ambassadors for their gesture.
© 2014, COCORIOKO. All rights reserved. – Discuss this and other related articles on the Salone Forum