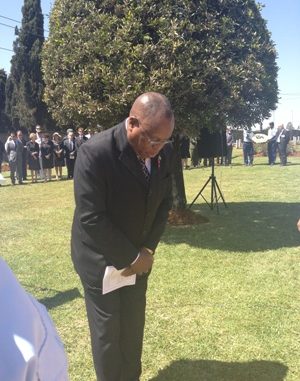 His Excellency Andrew Gbebay Bangali, Sierra Leone's Ambassador to the Federal Democratic Republic of Ethiopia on Sunday 10th November, 2013 joined a battery of Emissaries in attending the Remembrance Day to remember the war dead of the World Wars of 1914-1918 and 1939-1945.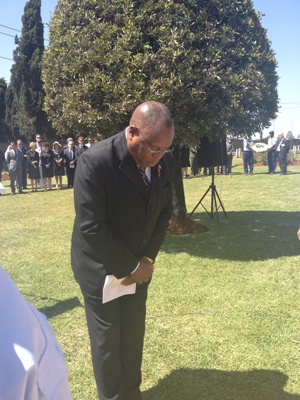 The wreath of the Sierra Leone Embassy was laid by Ambassador Bangali.
The ceremony which was organized by the British Embassy in Ethiopia took place at the Commonwealth War Graves Cemetery, Gulele, in Addis Ababa.
An invitation letter signed by the British Envoy to Ethiopia, His Excellency Greg Dorey and addressed to Ambassador Bangali reads in part thus: "I very much more hope you will be able to attend the service and to lay a wreath. May I request that your wreath (no larger than 17" in diameter) to be delivered to the Cemetery by 10: am on Sunday 10th November. This will allow us time to place the wreaths in the appropriate order. May I also ask that you arrive at the Cemetery before 10:30 am in order to sign the Book of Remembrance before the service begins?"
Words of Remembrance were delivered by Ambassador Dorey whilst prayers were offered by the Pakistani and Israeli Ambassadors to Ethiopia, His Excellency Mr. Ghulam Dastgir and Her Excellency Mrs. Belaynesh Zevadia respectively.
Bishop Grant LeMarquan officiated the ceremony.
Abdul Karim Koroma
Information Attaché
Embassy of the Republic of Sierra Leone
Addis Ababa
Ethiopia
Email: akk23222@gmail.com