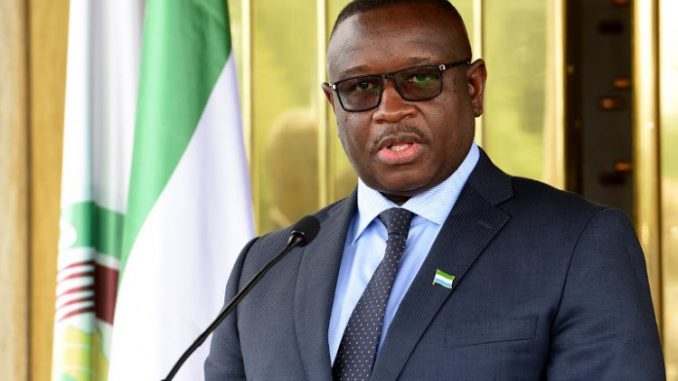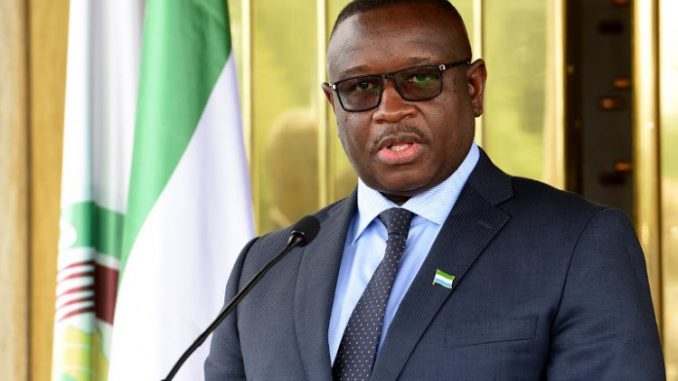 AN OPEN LETTER TO HIS EXCELLENCY THE PRESIDENT OF SIERRA LEONE, JULIUS MAADA BIO.
Dear Mr President.
"If we talk about development, policy implementation,peace and unity, we must take our paramount chiefs very seriously"
"No government can succeed without working with you" (chiefs)
Mr President, the above two quotes are from your speech you gave to the paramount chiefs when you addressed them at the Miatta conference in April 2018.
Mr President, while I recognize that you inherited a very poor economy and continue to face serious challenges in governance and law and order, I have been , fairly or unfairly , a critic of your leadership.
I have done so not from the position of hostility, as it would seem to some, but for the national interest, because , unlike some, I believe that the right to dissent is not only necessary in a functioning democracy but it can point out the blind spot.
I write to you today on a matter, which I believe we share a common heritage and that is the institution of chieftaincy and their role in modern day Sierra Leone.
I have read the 2017 decentralization act and I didn't find any statement that define, in statute , the role of paramount chiefs.
Nevertheless, the significance of the role paramount chiefs play in our society cannot be over emphasized as your addressed to the paramount chiefs accentuated.
Mr President, while my letter is not motivated by personal interest, you would agree with me, that since Sierra Leone became an independent state , the powers of our paramount chiefs have been consistently withered away by successive central government.
My GCSE study of government informed me that there are three organs of government , which are the executive, legislature and the judiciary. But arguably there is another organ of government, which I would like to add, and that is the local government.
Governments in the past have failed to give due consideration and support to the paramount chiefs , who, until our country gained independence from the British, were head of local administration.
Theoretically, there are some semblance of this role but the state has not afforded the chiefs the statutory platform and resources to engage in bringing development to their respective chiefdom.
I am not advocating for the restoration of the full powers of the paramount chiefs as it existed during the British colonial administration. Then, my paternal grandmother, the iron lady, paramount chief Madam Humonya , forced men in her chiefdom to do farming for her. Those who didn't comply with her order were put in jail.
Rather, I advocate for empowerment of modern progressive chiefs , like my father, Alpha Lalugba Kai-Samba 1, who was capacitated and had the statutory platform, that enabled him transformed Kenema , which was smaller than Blama, in to a vibrant head quarter of the east and is today the third city of Sierra Leone.
You may wish to know, Mr President, that I have been compelled to write and bring certain issues to your attention not because of how our chiefs were treated in the past but how they are now being treated.
It is with profound sadness that paramount chiefs in our country are paid 2 million leones a month , which is equivalent to 200 dollars .
A member of parliament, in the chiefdom of the paramount chief,is a subject of the paramount chiefs and represent only a fraction of the people in the chiefdom , can earn 4,000 dollars a month, compared to 200 dollars a month salary for a paramount chief.
In terms of expectations, there are higher placed on the shoulders of paramount chiefs in their respective chiefdoms than that of our Members of parliament representing their parliamentary constituencies.
Mr President, as you quite rightly acknowledged the significant role of our chiefs in national development and peace building, it is my humble suggestion that you direct the new secretary of state for local government, Tamba Lamina , to review the salary of paramount chiefs that reflect their responsibilities and status as agents of development.
Indeed , I would like to remind you that in your address to the paramount chiefs in April 2018, you pledged to" empower paramount chiefs to enhance easy administration"
We have highly educated chiefs, unlike in the past. Some of them have been professionals like doctors, engineers, land use planners and Teachers.
The paramount chief of Mandu ,David Farley Keili-Coomber holds BSc hons in civil engineering from Lancaster university in Britain and Masters in public health engineering in the USA, where he had his own company before he returned to Sierra Leone. His salary is 2million Leones and as I write, he hasn't receive that paltry amount for the last four months.
Paramount chief Alfred Hindowa Demby of Jerihun, Bo district holds BSc hons in Land use planning at Wales university in UK. He returned home and worked in the civil service rising to permanent Secretary before he was elected as paramount chief.
What is particularly unjust and indefensible is the contempt in which central government , in the past and at the present, have denied dignity and respect for the institution of chieftaincy, but used the chiefs to advance the political ambition of those in politics.
Our cabinet ministers and members of parliament are very highly paid with massive benefits given the country's low GDP. However, their salaries are paid in time , whereas a paramount chief with far greater numerical responsibility over his chiefdom has to wait for 6 to 8 months before he can be paid 2 million Leones for each month in arrears.
Mr President, your government cannot afford not to empower paramount chiefs. They critical assets to your development plans and security. They are central to our security, peace and unity and your government should enhance their capabilities in ensuring you achieve that.The SLPP , you now lead, has a greater responsibility , more than any other political party, to support the chiefs and strengthen local government.
In a moment of crisis, the people look for leadership from the paramount chief of the chiefdom.
During my campaign for the chieftaincy of Nongowa, the common issue that many of the people in the villages brought to my attention was that they only see the politicians during election campaign but they all vanished after they become Members of parliament.
In contrast, paramount chiefs are with their people dealing with land dispute, cultural and the day to day administration.
During the rebel war, the chiefs were the first line of attack by the rebels because they perceived the chiefs as the centre of authority who can rally resistance.
During the Ebola virus outbreaks,with the epicenter in Kailahun and kenema , it was the paramount chiefs who took the lead in sensitising their communities .
The paramount chief of Mandu, David Farley-Coomber, summoned all his counterpart in Kailahun district to a meeting. The chief, using his expertise in public health , drafted an impressive large volume of documents ,enacting bye laws that became the major instrument in stoping the spread of the Ebola and was credited for ending Ebola in Kailahu district.
Finally, Mr President, it is clear to me that you are committed to empowering the chieftaincy and I am satisfied in the knowledge that, at some point , your government will deliver on your commitment. But the issue of salary for paramount chiefs , should, I proposed, command your urgent consideration.
With high esteem and my sincere wishes.
Yankuba Gbassa Kai-Samba
Former UK SLPP Secretary General
Retired UK civil servant