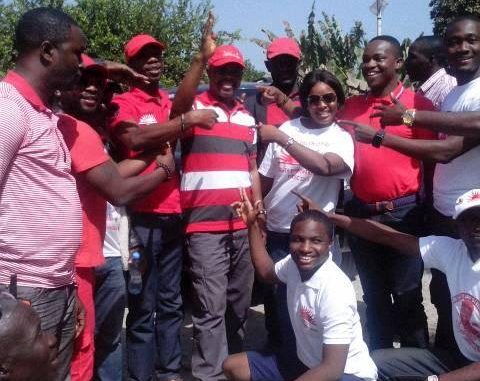 BY KABS KANU :
When all was said and done, the ruling All People's Congress ( APC )  prevailed, maintaining their supremacy in the country  and demolishing  all lingering doubts that they still held sway and masterdom in the very important and crucial swing district of Kono, by scoring a major  victory there, defeating their bitter rivals, the opposition Sierra Leone People's Party ( SLPP ) today's nail-biting bye-elections.
Kono is very much like Florida or Ohio in the U.S.  electoral configuration . Any political party that must gain power in Sierra Leone must win in Kono District. Neither of the rivals APC and SLPP  will  find it easy to win a presidential elections if they lose Kono.
It was for this reason that this weekend's bye-election for Constituency 025 assumed tremendous proportions. For the APC,  it was a test of their ascendancy in a district they captured from the SLPP in the 2012 elections. For the SLPP,  it was a test to demonstrate that there has been a major swing in the elections demographics ahead of the forthcoming elections , after the tumultuous saga of the former Vice-President, Mr. Samuel Sam-Sumana , who lost the requirements for continuing to hold the post after he was expelled  from the ruling party, which almost divided the nation  . So bitter was the competition for the seat that supporters of the two parties clashed during the electioneering campaign on Thursday and Friday , prompting Government to bring out the army to help the Police maintain order, invoking Military Aid to Civil Power ( MA-CP ).
The SLPP  would have scored a tactical and psychological advantage if they had won. It would have given their loquacious  supporters some hope that the APC  had lost control over Kono and that they could return to power during the upcoming presidential elections. It would have given them bragging rights . But today's defeat clearly showed that recent events, including the Vice-President's issue, had not affected the supremacy of the ruling APC and with the SLPP embroiled in damaging feuds and demonstrating little maturity and commitment as an opposition party, the APC could still win the next elections.
Today's election was very peaceful and orderly, with no incidents whatever and the polls were  free and fair. Elections observer praised the elections for being another indication that democracy has taken roots in Sierra Leone.
Christmas will be joyous and enjoyable for supporters of the APC . The celebration has already started this evening and the social media is abuzz with congratulatory messages for one another.