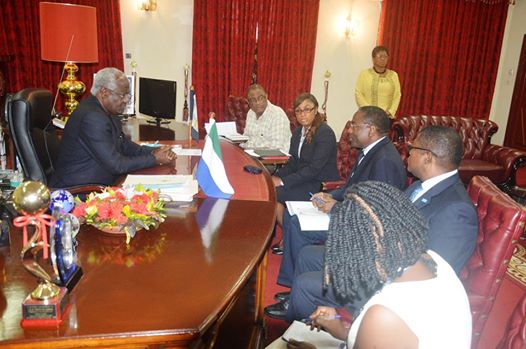 President Ernest Bai Koroma has on Wednesday 23rd July 2014 called on the World Health Organization (WHO), Regional Director for Africa, Dr. …Luis Gomes Sambo and his organization to join the fight against the deadly Ebola outbreak in Sierra Leone.
President Koroma made this appeal whilst welcoming the WHO delegation at State House where he described the visit as timely and furthered that government has put in place measures for the fight against the deadly disease. He informed the WHO Regional Director that there is a growing awareness of the Ebola disease. President Koroma said that government is working on curbing the outbreak and looking at the causes of infection, saying that the disease is new in the country and went on to state government's commitment in stepping up its efforts through continuous engagement with its international partners.
President Koroma reiterated the clarion call for continuous support towards government's commitment in the eradication of the disease. He urged Dr. Sambo to come onboard in the fight against the spread of the Ebola virus to other parts of the country by way of providing equipment and strengthen the training of health workers.
Presenting the delegation, the Minister of Health and Sanitation, Miatta Kargbo informed the President that the WHO Regional Director has been to Liberia, Guinea and now in Sierra Leone to capture the trend of the epidemic which he said the death toll has been more than 1,000 in the three neighbouring countries of Sierra Leone, Guinea and Liberia.
Speaking to President Koroma on the purpose of the visit, Dr. Luis Gomes Sambo observed that a high number of health officials in the front line have been infected by the virus and WHO will ensure that government and partners are fully involved in containing the spread of the disease. He said that the disease is spreading through contact and therefore suggested that there should be a change of behaviour in all institutions that are expected to be involved in addressing the outbreak.
Dr Sambo proposed to President Koroma for the motivation of staff and called on government to establish a national strategic plan at district and community levels so that everybody will be fully informed about the deadly disease.
He called for the increase in the number of staff at the treatment centres and added that salaries and wages are adequate and be paid on time. See More — with Mia Kargbo.