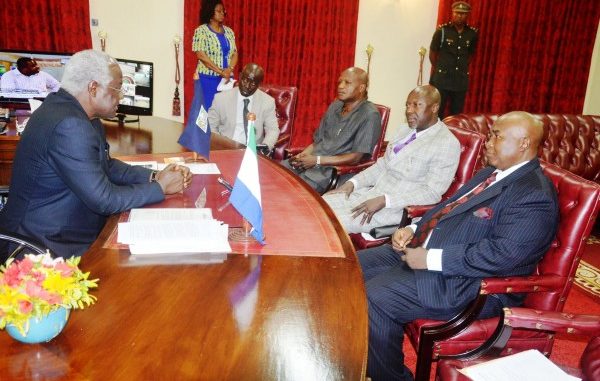 By State House Communications Unit
As government is putting together a robust post Ebola recovery plan, President Ernest Bai Koroma Monday 9 February hosted the executive chairman of Squid Fishing Company Mr Ipalley Lawson at State House, Freetown. Mr Lawson is in the country to discuss various multi-sectoral investment and development projects ranging from agriculture, oil and gas, mining and particularly the fishing industry.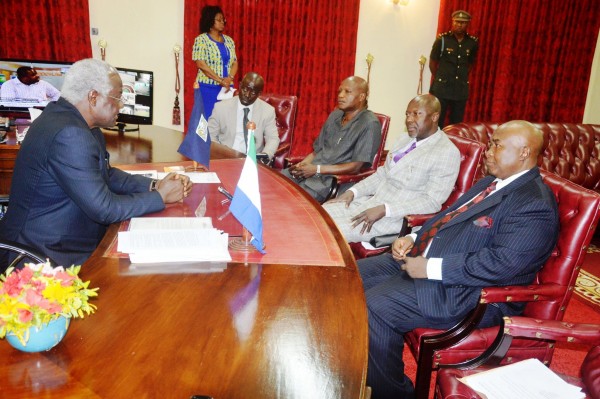 President Koroma said that Sierra Leone is opened for business and government will ensure that the private sector is strengthened, give scope for the growth of the sector and also look closely in supporting South-South cooperation and encouraging investors to come in. On the sectors identified, the president stated that there are abundant opportunities in those sectors owing to the fact that government is trying to attract a lot of investment, especially in the agricultural sector in order to increase value addition. He said the country has huge fishing potential, whilst noting that government is ensuring that the industry is adequately regulated. President Koroma also said that government is working collaboratively with its development partners to ensure the regulatory and enabling environment is put in place. "We have the regulatory environment, the laws are clear on what to do, where to go and who to contact," he explained.
He encouraged Mr. Lawson to come onboard and look at the possibilities. On the oil and gas sector, especially on strategic reserves, President Koroma informed that government has developed a concept over the years, but however noted that what is required most is good partnership, new ideas and the right approach that will enhance the capacity of Sierra Leoneans.
In his opening remarks, Mr Ipalley Lawson thanked President Koroma for fighting a good fight of faith. He stated that for any economy to thrive, premium should be put on the agricultural sector with specific attention on the fishing industry. He disclosed that within the next month he will be sending in two fishing trawlers, and added that he is already in talks to bring in a modern fishing vessel. Going beyond the agriculture sector, Mr Lawson said he is also into oil and gas, mining and look forward to having a public private partnership.
He underscored the significance of having strategic reserves for petroleum products and to partner with the state to build tank farms linking major towns. He expressed optimism that similar investments in Nigeria, Benin, Uganda, Ghana and Dublin could be replicated in Sierra Leone. He further highlighted series of investment plans ranging from, fishing, mining, oil and gas and agriculture and added that investors will come in to help develop all of these sectors.