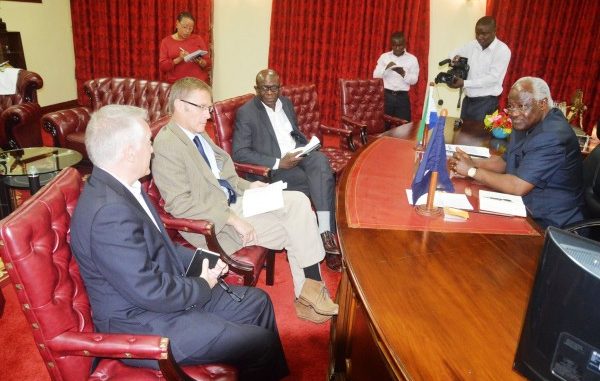 By State House Communications Unit
President Ernest Bai Koroma Wednesday 11 February expressed the need for the country to start registering zero new infection in the shortest possible time. The President made this statement during a farewell courtesy call of the Head of the British Joint Task Force on Ebola Donal Brown at State House, Freetown.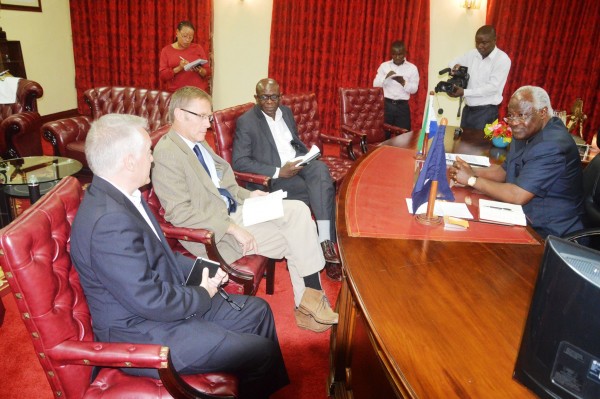 President Koroma stated that with the marked improvement in containing the waning virus, it will be prudent to enhance continued engagement and sustaining of the gains and efforts made so far in order to end the outbreak as soon as possible. As a government, he said, "We have set up the structures and get them functional adding that this also a critical period that requires the sustaining of efforts as the country moves towards post Ebola recovery phase. The president expressed hope that the new UK Ebola point man Marshall Elliot will work within his mandate in complementing the efforts of government in reaching to zero new infection.
Introducing his successor, Donal Brown said that Marshall Elliot's role is to help the government get to zero infection, on the one hand, and to provide leadership in the United Kingdom's transition for post-Ebola recovery as well as planning and organization to ensure the government gets the right support from the UK, on the other.
The newly appointed UK Ebola point man Marshall Elliot said that reaching zero infection requires firm action and focus on the remaining cases, adding that he was very confident to getting to work with government to achieve this feat. He stated that with the briefing he had with his team, a lot of progress had been made in many areas in the president's plan and vision for prosperity.