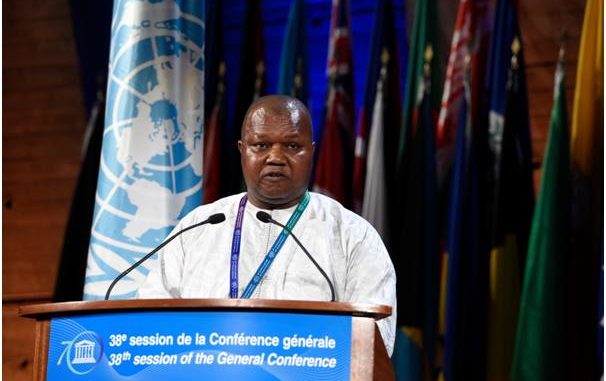 The Director-General of the United Nations Educational, Scientific and Cultural Organization (UNESCO), Irina Bokova has said the organization "stands ready to support the government of Sierra Leone in its post Ebola recovery and transition programme".
Madam Bokova was, on Monday, November 9th responding to the various speeches delivered by Heads of Delegations when she singled out the speech delivered by Sierra Leone's Head of Delegation and Minister of Education, Science and Technology, Dr. Minkailu Bah whilst at the same time addressing world delegates at the UNESCO headquarters in Paris during the ongoing 38th Session of the UNESCO General Conference.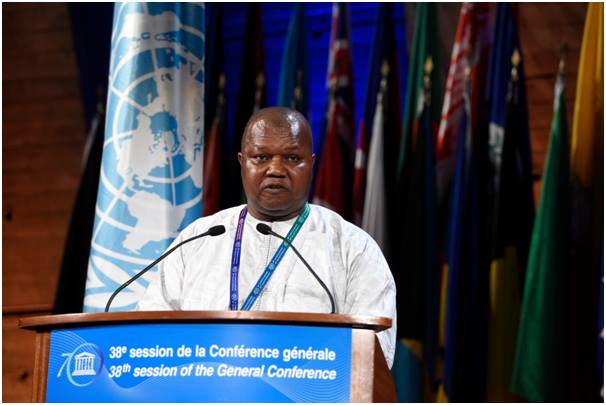 The UNESCO DG stated,"the distinguished Head of Delegation of Sierra Leone spoke of the central role of education in the Post Ebola Recovery and Transition Programme – and UNESCO stands ready to support the Government as it moves forward".
Dr. Minkailu Bah earlier in his address stated that "significant progress has been made towards achieving the Education For All (EFA) goals'', and thanked UNESCO  for the organization's strong support through the Capacity-building programs for Sierra Leone.
Here is Dr. Bah's full address to the delegates;
Mr. Chairman of the General Conference
Your Excellencies, Heads of States of Member States
Director-General of UNESCO, Mr. Koichiro Matsura
Director General Designate of UNESCO
Excellencies, Ambassadors and Heads of Diplomatic Missions
Directors and Heads of UNESCO Sectors and Cluster Offices
Let me start my presentation by congratulating UNESCO on behalf of the Government of Sierra Leone for yet another General Conference. I wish to express our sincere appreciation of the collaboration between UNESCO and the Government and people of Sierra Leone especially during our current period of post conflict rehabilitation and reconstruction. The Sierra Leone delegation is happy and excited to be here and to participate in the deliberations of this conference. We join the entire UNESCO family in bidding a deserved farewell to the distinguished out-going Director General Mr. Koichiro Matsura. My delegation is extremely appreciative of the remarkable impact UNESCO made in our country under his leadership and we wish him well. We are very hopeful that the in-coming Director-General, whom, from what we already know, will, not only foster the great works of Mr. Matsura, but will also; continue to maintain UNESCO as the best friend of Sierra Leone.
Mr Chairman, please permit me to register our regret at Sierra Leone's inability to participate in the 34th Session of UNESCO General Conference. That last General Conference was held during the week of the transition between the former and present administration and I was personally less than a week in my present office. I am confident that my delegation will be able to catch up with the good will and support we missed at the last General Conference.
Mr. Chairman, through UNESCO'S assistance Sierra Leone has made tremendous progress.
In Education, significant progress has been made towards achieving the Education For All (EFA) goals, and thanks to UNESCO's strong support through the Capacity-building programs for Sierra Leone. We have also made some progress in our efforts to ensure access and quality in our primary and basic education through the Government's commitment to improved teacher education and training; thanks again to the support of UNESCO through the TTISSA program. To foster this collaborative effort in teacher education and training, my Ministry is now working on establishing a Teaching Service Commission. Technical and Vocational Education and Training (TVET) remains a major priority of the Government of Sierra Leone. UNESCO has again provided some support towards this effort. Yet, Mr. Chairman, we are not there yet! Sierra Leone is still faced with grossly constraining capacity gaps in all aspects of the education sector. Our Higher Education sub-sector and institutions are in difficult circumstances. As records would show, Fourah Bay College, University of Sierra Leone was the first higher education institution established in sub-Saharan Africa, and it catered for most leaders and top professionals in Africa. Today this institution is losing its glory due to a variety of reasons. The Government of Sierra Leone is committed to addressing this trend and towards this end we solicit the good will of UNESCO. We are also completing but considering the sometimes prohibitive cost of training students in this area, government is seeking special assistance with the possibility of providing scholarships for girls offering these courses.
Mr Chairman, as a consequent of the rebel war in Sierra Leone, we are today overwhelmed by a mass of illiterate, unemployed and unemployable youth population. Indeed the President of the Republic of Sierra Leone, Dr. Ernest Bai Koroma, in his development roadmap, "Agenda for Change" declared the problem of youth unemployment as a threat to peace, stability and progress of Sierra Leone.
In the Culture and Tourism sector, Sierra Leone has one of the richest and most diversified cultural history and tourism potentials in Africa. These range from the vestiges and artifacts of the slave trade and routes to the unique languages, arts and crafts. So far, under the present government, the Ministry of Tourism and Culturehas produced a revised national Culture Policy which includes tourism and industrial tourism vocation and skills training. Indeed the Government is preparing plans for  the rehabilitating of the old Fourah bay College (FBC) site, and designating it as a Pan African Centre for Peace and Social Cohesion; the acceleration of the support for agricultural, culture and tourism potential of the Bonthe and Bunce Islands.  
In the Information and Communication sectors the present Government has encouraged the growth of a free press and there are several private radio, print and television outfits all over the country. The Government is poised to design a long-term program on information and communication in Sierra Leoen, with a focus on developing a national communications strategy; training of journalists and capacity building of media practitioners.
Mr. Chairman, there are a lot more development issues and constraints relative to the field of UNESCO's competence. But for want of time, and in order not to bore this distinguished body, I will leave further details for elaboration and discussion at the other appropriate segments meetings of the Conference. The simple message of this short presentation is to inform this distinguished body that Sierra Leone needs strong collaboration in order to get out of the capacity and resource constraints impeding its social, educational, cultural, scientific and technological development and to move Sierra Leone upwards form the bottom position in the United Nations Human Development Index.
We need your support, and the time is now!
Thank you for your attention and happy deliberations.