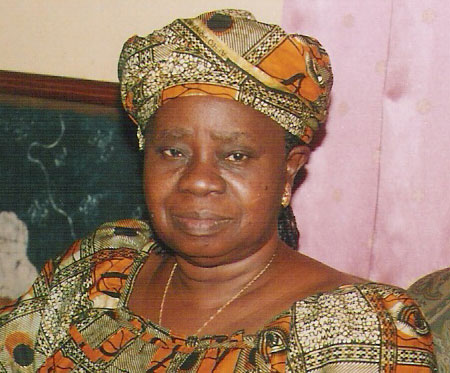 DEBORAH BEREWA
The Berewa family does not approve the memorial service planned for the late Mrs. Deborah Berewa, wife of Vice-President Solomon Berewa , in the Washington Metropolis by Messrs Mike Akpan, George Wilson, Francis Bundu and Thomas George , a release from the Vice-President's son-in- law stated today.
On January 12, the following information was posted on the COCORIOKO FORUM :
——————————————————————————————————————-
Posted by Mike Akpan on January 12, 2006 at 10:06:33:
All Sierra Leoneans and Friends of Sierra Leone are invited to a service In memory of Mrs. Deborah Berewa Wife of the Vice-President of the Republic of Sierra Leone. DATE: On Sunday January 15, 2006
WHERE: Takoma Park Municipal Center (Council Chambers)
7500 Maple Avenue, Takoma Park, Maryland
TIME: 2:00 -6:00 PM
Refreshments will be served
For additional information contact:
Mike Akpan – (301) 249-0130
Francis Bundu – (202) 829-8088
George Wilson (301) 933-6338
Thomas George (301) 446-2083
——————————————————-
Shortly after, the son -in-law of Vice -President Solomon Berewa , Mr. Amos Lansana , called the Editor of this newspaper to enquire the source of the announcement because he said he had spoken to the Vice-President and he has denied knowledge of the memorial ceremony. Mr. Berewa did not even know the individuals involved.
Mr. Lansana promised to investigate and publish a response from the family later. Today , he sent us this report :
Public Announcement
The family of the Late Mrs. Deborah Selina Boimalo Berewa (Nee Tucker) wishes to inform the general public that the Memorial service slated for Sunday 15th January 2006 at Tacoma Park Municipal Center does not have the expressed authorization of the family and has therefore been cancelled.
The 40th day ceremony and memorial mass for the Late Mrs. Deborah Selina Boimalo Berewa (Nee Tucker) will take place in Atlanta, Georgia on the 29th January 2006. The family will appreciate and accommodate coordinated memorial services on the same day for sympathizers and well-wishers who can not make it to Atlanta.
Details of the 40th day ceremony will be announced later.
Signed: Amos Gana Lansana