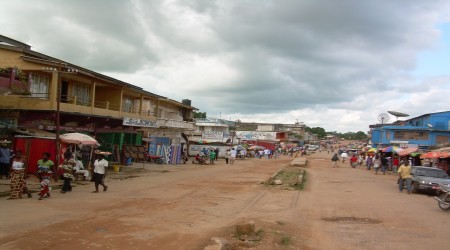 Saturday October 27, 2012 . 4: 30 pm Eastern Standard Time : STAR RADIO  has  just reported that supporters of the opposition SIerra Leone People's Party ( SLPP ) went on the rampage today in Koidu and attacked the homes of supporters of the ruling All People's Congress ( APC). The radio said that the attacks followed a campaign rally staged in the town by the SLPP today.
STAR RADIO  interviewed two of the victims–Allie Baylay Baylay and Haja Kabbah. Mr. Baylay Baylay said he was at home when he was tipped off that some SLPP  supporters were on their way to his home , armed with petrol bombs , to attack him and burn his house. He said that he immediately called LUC Sankoh but did not get him. Since he had done nothing wrong to anyone, he decided not to run away. The mob, he went on, stoned his house and attacked residents, one of whom suffered an injury on his arm. The Police later came to his rescue and arrested some of the assailants.
Asked by the radio anchor woman whether he had said or done anything to provoke the attack, Mr. Baylay Baylay said he had done nothing to warrant the attack. He said he learnt that the mob said they were coming to attack him because he is an APC  supporter.
Haja Kabbah , who was still shocked, told Star Radio that she too was attacked by a mob that was reining insults on the President , Dr. Ernest Bai Koroma, and his wife, First Lady Madam Sia Nyama Koroma.
WE WILL BRING YOU MORE DETAILS AS THE STORY UNFOLDS.