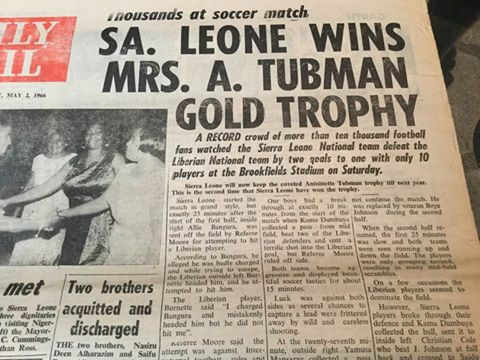 By KABS KANU : Your soccer historian
SIERRA LEONE AND LIBERIA,  the traditional soccer rivals, clash today in a big friendly international match at the Antionette Tubman Stadium in Monrovia.
To the best of my knowledge from records I have kept from newspaper reports and personally watching some of the matches, this is the head-to-head record of international matches between Sierra Leone and Liberia since 1966 when I started keeping records . The 1996 results were taken from the FIFA website.
At the national team level, Sierra Leone has won more matches , but at the inter-club level, Liberia reigns.
As will be observed, matches played between the two sister states in 1966, 1971 and 1979 led to bitter disputes that marred the soccer relations between the two countries at the time, but considering the fraternal relations between their two nations, their football associations had always found a way to reconcile.
These two  nations are bitter rivals in football and the only reason it is not prominent is that they have both failed to make their mark in international competitions like the African Nations Cup and the World Cup , though Liberia performed marvellously in 2001 and almost qualified but were upended by a stunning home loss to Ghana.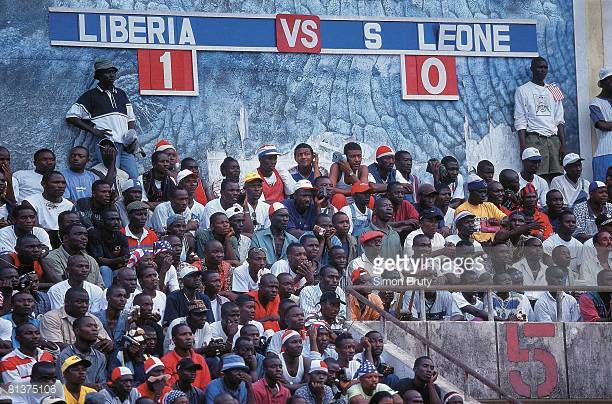 LIBERIA FANS WATCHING THEIR NATION PLAY SIERRA LEONE IN 2001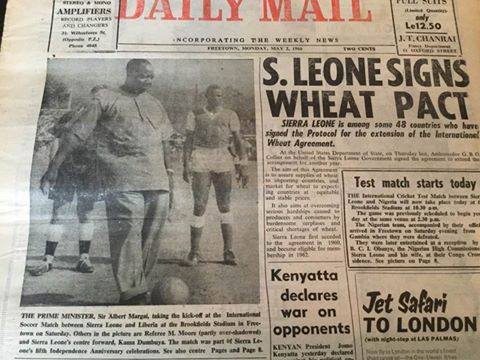 THE LATE PRIME MINISTER SIR ALBERT MARGAI TAKES THE KICKOFF IN THE MAY 1966 LIBERIA-SIERRA LEONE CLASH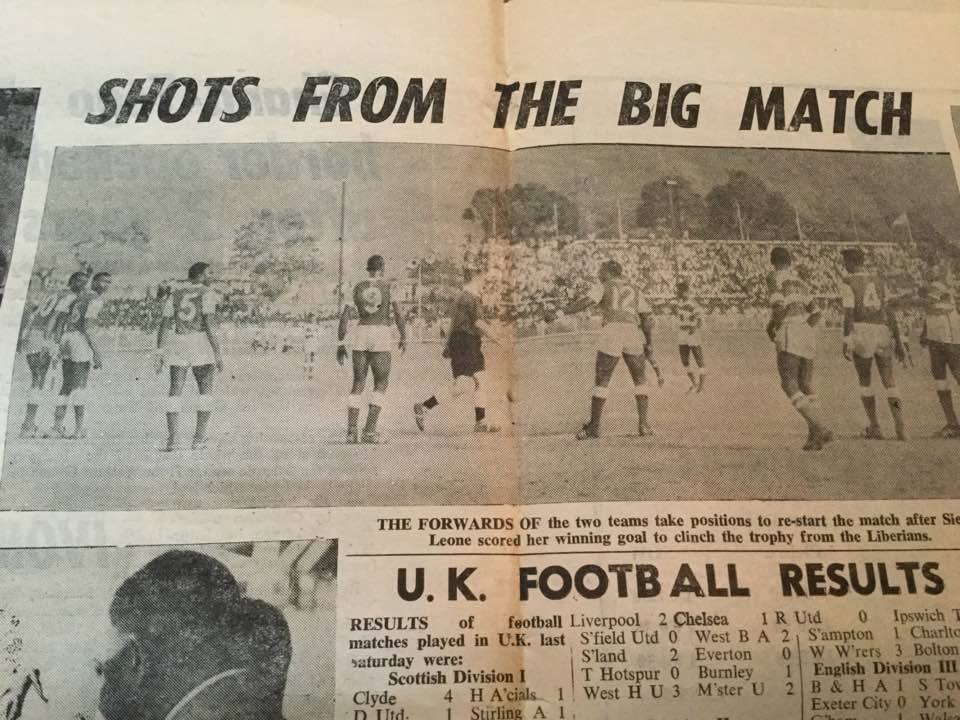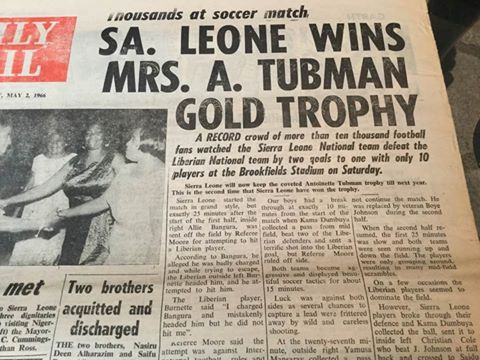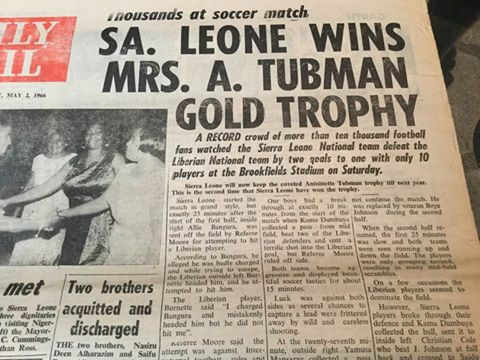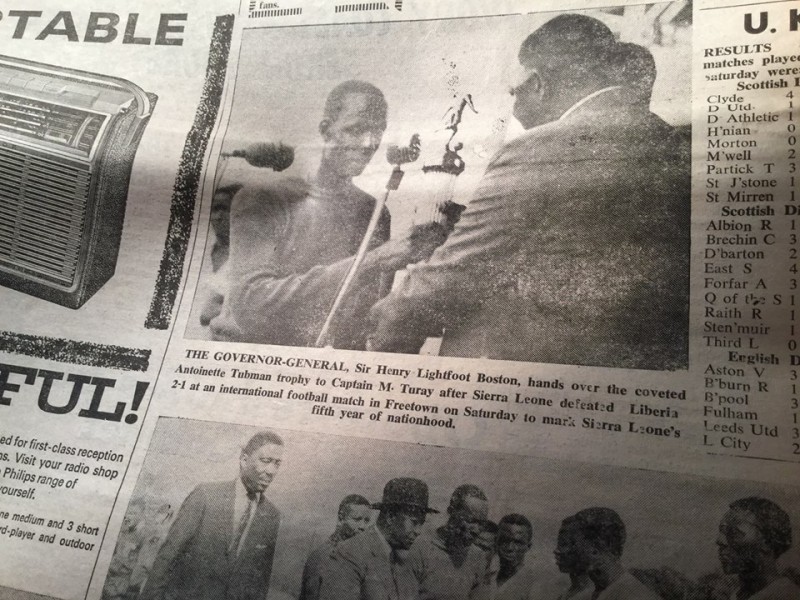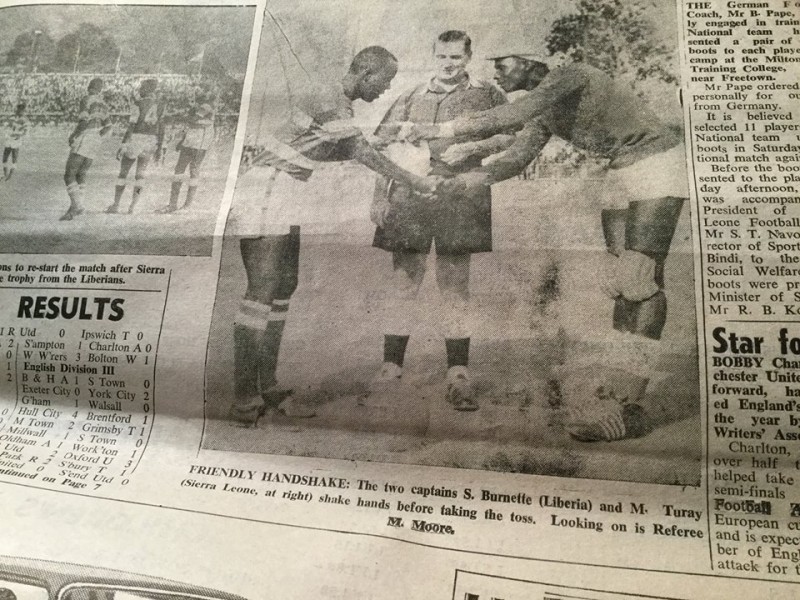 ____________________________________________
HERE ARE THE RESULTS ( I Will try to conduct research for results of matches between the two countries in the 1950s and early 1960s. 
May 1966 , Antionette Tubman Cup series  : Freetown , SIERRA LEONE 2, LIBERIA 1  (  The Sierra Leone Daily Mail reported that Sierra Leone won the cup during the previous year in Monrovia, but no result given ) Sierra Leone played with 10 men for over 70 minutes as Referee T.M.P Moore of Sierra Leone sent off Allie Teet Bangura for striking Sam Burnette.
November 1966  : West African Gold Cup series : Freetown  :  SIERRA LEONE 1, LIBERIA 1 Sierra Leone rescued by a last minute penalty kick by Kabineh Kabba. It was dubbed the Wannibo Toe show as he and Mass Sarr were the men of the match. One of the best matches ever played between both countries and Liberia dominated it and won profound admiration from the Sierra Leone fans.

November 1966 : West African Gold Cup Series : Monrovia :  LIBERIA 2, SIERRA LEONE 0 ( Match ended in chaos as Sierra Leone complained about poor lights at the Antoinette  Tubman Stadium  and attack on their players by spectators : Umaru Sesay briefly arrested by Police . This game soured soccer relations between  the two nations . However, inter-club friendly matches continued   between the two countries
October 1967 : Friendly International match : Monrovia :  LIBERIA 1, SIERRA LEONE 1
November 1971 : Reconciliation Match :  Monrovia : LIBERIA 3, SIERRA LEONE 1 Another chaotic game as Sierra Leone protests against crowd trouble

November 1971 : Second leg. Freetown : SIERRA LEONE 2, LIBERIA 0 :  Chaotic match  as Liberian players booed by Sierra Leone fans throughout the game

April 25, 1976  : Friendly International match :  Freetown : SIERRA LEONE 1, LIBERIA 0    Christiian Cole scored the only goal

1979  : Olympic Games Qualifying series : Freetown . SIERRA LEONE 3, LIBERIA 1.  The Dyfan-Mazzola show.  It was the match at the new Siaka Stevens Stadium which led to serious chaos , with Liberia protesting that Sierra Leone Police assaulted their supporters and Sierra Leone newspapers alleging that the Liberian players smeared their hotel rooms with human waste . This match caused a big furor in Liberia with Daniel Draper, Editor of the Liberian Age newspaper, in a very scathing editorial,  calling for the dissolution of the Mano River Union  and LEONE STARS  failed to turn up for the second leg for fear of retaliation . Liberia given the points and played against Ghana in April 1980 during which  their players were stranded for a week in Accra  following the April 12, 1980 coup in Liberia 

November 1982  : Reconciliation Match : Freetown :  SIERRA LEONE 0, LIBERIA 1 . Sam Sumo scored only goal for Liberia .
October 1986 : African Nations Cup : Freetown. SIERRA LEONE  2, LIBERIA 1  : Sierra Leone scored stoppage time  winner after Liberia equalized in the dying minutes. Sierra Leone earlier missed a penalty by Alusine Terry .
October 1986  : African Nations Cup, second leg :  LIBERIA 1, SIERRA LEONE 1 . Sierra Leone scored stoppage time  equaliser from John Dumbuya. Sierra Leone also missed another  penalty kick earlier through Gbassey Sesay . Sierra Leone went on to score one of her best results ever by eliminating the then African giants, GHANA ,  from the next round, winning 2-1 in Accra and drawing 0-0 in Freetown (when the desperate Ghanaians led by Anthony Yeboah and Abedi Pele, hit the goalposts thrice ). It was one of the golden moments of Sierra Leone soccer , as her champions club Mighty Blackpool , qualified for the Quarter-finals of the African Champions Cup that year  against Setif of Algeria
1988 : Friendly match : Monrovia : LIBERIA 2, SIERRA LEONE 1 ; Solomon Joe of Liberia scored a cracking winning goal from 35 yards but it was the junior Sierra Leone national team, Shooting Stars , because that same day, the senior national team, Leone Stars , were playing Tunisia in the African Nations Cup in Freetown , which they won 1-0 with Lyndon Thomas scoring the only goal. The Liberian Daily Observer reported both matches side by side on its sports page, quelling speculation by Liberian fans that Sierra Leone was just making excuses.
November 1988 : Mano River Union Three-nation Cup , Monrovia : LIBERIA 0, SIERRA LEONE 0 (  Sierra Leone won 5-4 on penalty kicks ) to play Guinea in the final, but lost 0-1 .
December 1995 : Friendly match : Freetown : SIERRA LEONE 1, LIBERIA 0

January 1996 : Friendly match.  Freetown : SIERRA LEONE 2, LIBERIA 1


February 2001  FIFA WORLD CUP :  Monrovia : LIBERIA 1, SIERRA LEONE 0
July 2001  : FIFA WORLD CUP : Freetown : SIERRA LEONE 0, LIBERIA 1
JUNE 2005 : THREE -NATION SOCCER COMPETITION IN FREETOWN, SIERRA LEONE 2, LIBERIA 0
April 2008  :Friendly match : Monrovia , LIBERIA 3, SIERRA LEONE 1
NUMBER OF MATCHES PLAYED 23
NUMBER OF MATCHES WON BY SIERRA LEONE  9
NUMBER OF MATCHES WON BY LIBERIA 7
NUMBER OF MATCHES DRAWN 4