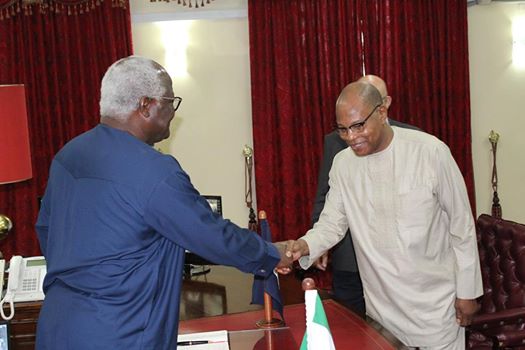 By State House Communication Unit
Dr Mohamed Ibn Chambas, Special Representative of the United Nations Secretary General for West Africa and the Sahel, on behalf of the United Nations, extended heartfelt sympathy to the Government and people of Sierra Leone in connection with the flooding and deadly mudslides which befell Freetown early last week, resulting in enormous devastation and heavy loss of life. He conveyed to President Koroma and the affectees sincere condolences for the tragedy they have suffered. He assured of UN's support to Sierra Leone and commended the leadership of President Koroma for his usual swift response to emergency issues which, he said, the UN family is appreciative of.
Dr Chambas also commended the immediate reactions of regional bodies to the August 14 disaster which he described as terrible, and recommitted UN's full support to Sierra Leone especially in the area of providing technical assistance.
President Koroma, on behalf of the Government and people of Sierra Leone, thanked Dr Chambas for the kind sentiments, saying that since the incident occurred the UN has been collaboratively working with government in addressing the situation. He reported on the discovery of 494 bodies and over 5000 people who had been duly registered so far.
The president further updated Dr Chambas on the commencement of the construction of permanent settlements for directly affected persons as an initial move, adding that government will later consider the relocation of all those living in disaster prone areas to a permanent settlement. He however made it abundantly clear to the UN representative that the current predicament would not in any way affect the electioneering process scheduled to take place in March 2018.
Dr Mohamed Ibn Chambas was accompanied by Sunil Saigal, United Nations Resident Coordinator in Sierra Leone.