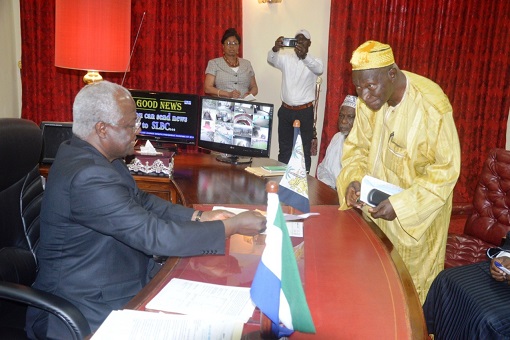 By State House Communications Unit
As efforts are being exerted to ramp up the fight against Ebola, President Ernest Bai Koroma has called on all to change their attitudes to speedily win the fight against Ebola. He made this statement during the presentation of donations at State House toward halting the spread of the disease.
President Koroma acknowledged that Ebola can only be defeated when the chain of transmission is broken. He urged all to continue with social mobilization in their various communities so that the locals within the communities will stop washing corpses, burying the deceased at night and desist from traditional practices that will accelerate the rate of infection of the spreading virus. "If we continue with these practices, we would only fill the treatment centre and we don't want to continue like this," he said. The president encouraged all Sierra Leoneans to come together to eradicate the disease.
He also lamented the fact that Ebola has disrupted a lot of activities and continued that with a sustained national effort, Ebola would be a thing of the past. He expressed strong belief that with great effort, especially within the 21 day cycle, "We will put Ebola behind us," he opined.
As government continues to engender support from both public and private institutions, the Old St. Francis Students Association as a way of registering their support donated Sixty Million Leones (Le 60,000,000) to sustain government in the fight against Ebola. The national office of the West African Examination Council as part of their contribution presented a cheque donation of Fifty Million Leones (Le 50,000,000) to halt the spreading virus.
The Fourah Bay community also registered their support by presenting a cheque of Twenty Million Leones (Le 20,000,000) to aid the fight against Ebola. In the same vein, the Amzak International Business Group donated Ten Million Leones (Le 10,000,000) as part of their contribution towards the fight.