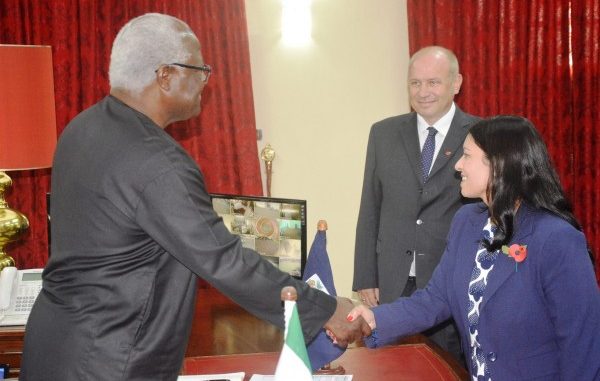 By State House Communication Unit
Her Majesty's Principal Secretary of State for International Development (DFID) the Right Hon. Priti Sushil Patel Tuesday November 8 praised the President's Recovery Priority programmes jointly implemented by government in collaboration with DFID and other development partners.
Hon. Patel made the commendation during a courtesy call on President Dr Ernest Bai Koroma at State House in Freetown. Hon. Patel is on a two day working visit in the country to get firsthand information on progress made so far in the implementation of the President's Recovery Priorities.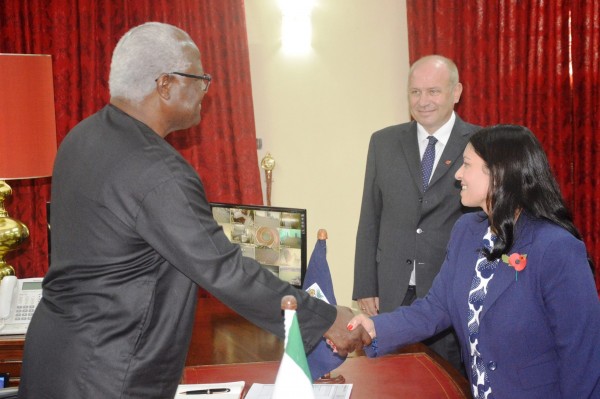 Giving her personal impression on the state of progress made on the ground, Hon. Patel disclosed that she has seen the amazing developments that are taking place in the country under the President's Recovery Priorities programmes. She lauded President Koroma's committed leadership in the fight against Ebola as well as in the implementation of recovery priority programmes such as returning children to schools.
Welcoming the DFID Secretary of State for International Development, President Koroma described the working visit as an opportunity for the UK minister to acquire firsthand information about what is happening on ground.
The president thanked Prime Minister Theresa May and the British government for supporting the fight against the dreadful Ebola disease as well as the President's Recovery Priorities. He informed Hon. Patel that the government had on Monday November 7 observed the first anniversary of the end of Ebola in Sierra Leone.
He stated that although the 6 to 9 months post Ebola recovery priorities had been successfully completed and the second phase of 10 to 24 months is well underway, challenges of inadequate resources still remain.