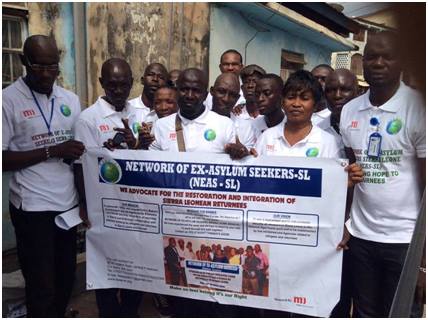 By Alfred Fornah
The Office of Diaspora Affairs (ODA) has on Tuesday 2nd August, 2016 had a meeting with some members of the Sierra Leone Network of Ex- Asylum Seekers (NEAS-SL).
The meeting took place at the Conference Room of ODA Headquarters at 8 Wesley Street, Freetown. The objective of the meeting is to enhance familiarization between ODA staff and members of the Network of Ex- Asylum seekers; and also to discuss on how both of the two institutions could collaborate.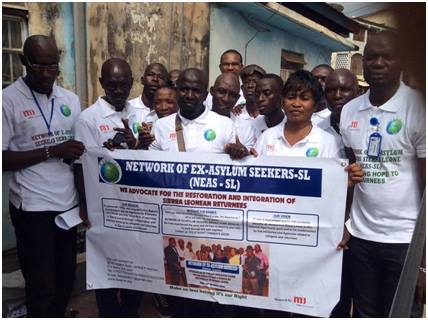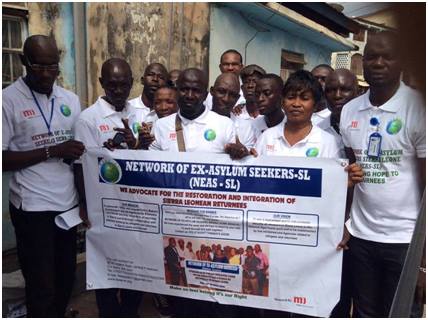 In his statement, the Chairman of NEAS-SL, Mr Abdulai Daramy said the Network of Ex-Asylum Seekers Sierra Leone (NEAS-SL) was established in 2011 by some returnees deported from abroad, especially those who have been left vulnerable and cut off from relatives, families and friends. The main aim of this organization he said is to lobby and advocate for the human right and rule of law considerations in the processes and procedures of deportation and also for better social and economic integration benefits so that deportees could be able to adapt to normal life at home.
He commended ODA's Director, Mr. Kallay Musa Conteh, whom he said has been very cooperative to their organization. ''Even when we invited him to attend our Policy Dialogue Forum in September last year, he ensured that he attended and participated'' he emphasized.
NEAS-SL Chairman furthered that currently they have a focal person at the Lungi International Airport who is placed there to welcome, collect data and provide counselling to returnees deported from overseas, adding that their Organization need a counselling centre; that will provide counselling services to deportees and also ensure that they are integrated fully into their communities. And that he said this could be the area where they needed ODA's support and collaboration.
Addressing members of the Network of Ex-Asylum Seekers, ODA's Director, Mr. Kallay Musa Conteh said that although ODA's mandates does not border much on the issue of ex-asylum seekers, but as an institution in charge of coordinating Diaspora activities, they are actually interested to collaborate with their Organization so that they could reintegrate ex-asylum seekers and Sierra Leoneans deported from abroad to their various communities in the country. He promised that ODA will fully cooperate with them as and when necessary.
Mr. Joseph Lansana, ODA's private Sector Manager, explained that their institution has a mandate ranging from filling critical gaps in the public sector with diaspora human resources; to the facilitation of securitizing and formalizing Diaspora remittances and also encouraging and promoting Sierra Leone Diaspora investments; thereby serving as a bridge, linking Sierra Leoneans from the Diaspora to different businesses ventures and opportunities. He lauded the effort of NEAS-SL for forming such an organization, and further stated that ODA will find ways and means in order to integrate Ex-Asylum Seekers into their programmes.