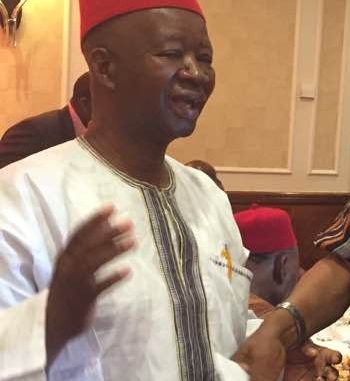 The National Secretary General of the ruling All People's Congress party, Ambassador Alhaji Osman Foday Yansaneh and his team from Freetown, mandated to take a world tour to conduct and set up all APC Diaspora branch executives on Sunday, July 31 wrapped up its European assignment by admonishing the newly elected Executives of the APC Diaspora branches in Belgium and Holland to "remain steadfast, focussed and continue to support the development Agenda of President Dr. Ernest Bai Koroma and his government".
He warned the new Executive members who were elected in Belgium and Holland on July 30 and 31 respectively, to refrain from openly taking sides in support of any of the emerging aspiring candidates wanting to succeed President Koroma, as such an action has the tendency to compromise their integrities.

The party scribe, whose delegation also include the Minister of Trade and Industry and Western Region Chairman, Hon. Alieu Momodu Pat-Sowe; Hon. Amadu Fofanah of Constituency 109; Mr. Alieu Malador and Dr. Horace Dove-Edwin, further informed the APC members in both countries that the APC has established structures and procedures that will be strictly followed when the time comes for the election or selection of a Flagbearer. He revealed that the party might convey its National Delegates Conference in February next year to elect the Presidential candidate in accordance with the 2013 NDC resolution, adding that before the convening of the NDC, the party will set up a Credentials Committee to vet all those that would have applied to carry the APC flag in 2018.
Outlining the achievements of the APC government of Dr. Ernest Bai Koroma in all sectors since his assumption of power in 2007, Ambassador Yansaneh expressed optimism that the party will defeat the SLPP or any other opposition party at any time. "We will not be complacent. We will continue to deliver and most importantly, we have the political know-how. The SLPP will never defeat us in a free and fair elections when we are in power. It's only the APC that has the record and capability to wrestle power from the SLPP when they are in governance. We did that in 1967 and 2007. They have never done that", he stated.
The elected Executives in both countries commended the APC team for successfully supervising and conducting peaceful and acceptable elections.
In a related development, Ambassador Yansaneh and team paid a stop-over visit at the Holland Shipyards in Holland. The Holland Shipyards is presently operating at Cline Town – Kanikay Wharf in Sierra Leone task with the responsibility to modernize the shipyard for the repair of ships and ferries.
Sierra Leone's Ambassador to the Kingdom of Belgium with accreditation to the Kingdom of The Netherland, Hon. Ibrahim Sorie was praised by the visiting team for the warm hospitality accorded them and "for making our work easier".
Here are the new executives;
Chairman – Abdul K. Kargbo
Vice Chairman 1 – Tapsiru Nallah
Vice Chairman 11 – Mohamed Lamtey Bangura
Secretary General – Hassan Fornah
Asst. Secretary General – Musa Ahmed Kamara
Organising Secretary – Lamin Denkeh
Asst. Org. Secretary – Fatmata Binta Bah
Financial Secretary – Haja Amina Sankoh
Treasurer – Mohamed Sankoh
PRO 1 – Ibrahim Kabba Kargbo
PRO 11 – Bakarr King Conteh
Women's Leader – Marion Kanu
Deputy Women's Leader – Esther Koroma
Youth Leader – Ernest Koroma
Dep. Youth Leader – Umaru Kargbo
Chief Whip – Ibrahim Turay
Director of International Affairs – Alieu M. Bah
Deputy Director of Int. Affairs –  Umaru Sesay
Welfare Officer – Mrs Marie Turay-Bangura
Asst. Welfare Officer – Isata Koroma
Principal Veteran Advisers and Ex-Officio members;
Chairman – Adikali Kamara
Vice 1 – Abu Bakarr Sesay
Vice 11 – Mohamed Hakim Conteh.
Vice Chairman I – David Brima Yayah Kanu
Vice Chairman 11 – Foday Conteh
Secretary General – Osman Kamara
Asst. Sec. Gen. & Director of Int. Affairs – Abu Bakarr Koroma
Organising Secretary – Alusine Sesay
Asst. Org. Secretary 1 – Ibrahim Bangura
Asst. Org. Secretary 11 – Issa Kanu
Financial Secretary – Pareh Koroma
Treasurer – Abdul Katta Bangura
Women's Leader – Evelyn Fofanah
Dep. Women's Leader – Doris Komba
Youth Leader – Michael Baimba O. Sesay
Chief Adviser and Ex- Officio Member – Abdul King Dura Bangura
Advisers and Ex- Officio Members – Sulaiman Bangura, Foday Sankoh, Mayillah Yansaneh and Mrs. Fatmata King Dura Bangura.
Head of Media & Public Affairs Dept.
Embassy of the Republic of Sierra Leone,