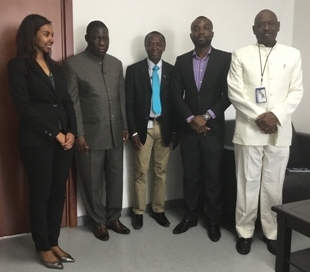 The Director of Citizens and Diaspora Directorate of the African Union Commission, Dr. Jinmi Adisa on Wednesday 25th November, 2015 received in audience the Director of Diaspora Affairs in the Office of the President, Mr. Kallay Musa Conteh at the African Union Headquarters in Addis Ababa.
Addressing his counterpart, Mr. Conteh briefed the meeting on the purpose of his visit in Ethiopia. He recalled that his office was established in 2008 by His Excellency, the President, Dr. Ernest Bai Koroma to provide Diaspora network support for Sierra Leoneans living abroad.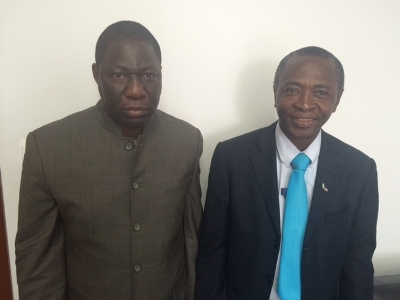 Dr. Adisa (L) and Mr. Conteh (1).JPG
"I am here to seek first hand information on the African Union policy framework on Diaspora issues and to further share best practices on how to promote Sierra Leone's Diaspora involvement in the socio-economic development of the country," he said.
The Director of Diaspora Affairs further informed that there are about one million Sierra Leoneans living overseas mainly in the United Kingdom and the United States of America with vast capacities in various fields.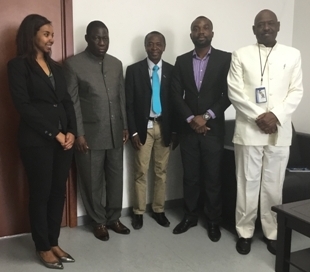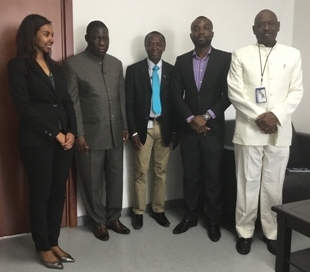 Mr. Conteh (M) sorrounded by staff memebrs of the African Unoin Commission (1).JPG
Responding, the Director of Citizens and Diaspora Directorate at the African Union Commission, Dr. Jinmi Adisa said that his office had helped the Malawian and Liberian Governments to set up their Diaspora offices recently.
Dr. Adisa noted that the Commission is working on five legacy projects and that they want Africans living in the Diaspora to contribute meaningfully towards the Continent's transformation agenda.
He informed his counterpart that his Department will be organizing a workshop next year relating to the empowerment of Diaspora institutions in Member States.
In another engagement, Mr. Conteh held a meeting at the Ethiopian Central Bank with the bank's Senior Advisor on Monetary Stability Cluster, Mr. Elaias Loha and the Director of Foreign Exchange Monitoring and Reserve, Madam Yenehasab Tadesse.
The issues discussed were mainly centred on how Sierra Leone can emulate the Ethiopian foreign remittance system, banking and investment opportunities available for those living in the Diaspora.
Abdul Karim Koroma
Information Attaché
Embassy of the Republic of Sierra Leone
Addis Ababa
Ethiopia
Email: akk23222@gmail.com