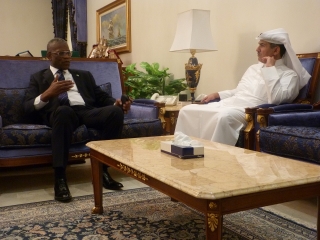 By Alhaji  M.B.  Jalloh :
Sierra Leone's Ambassador to the Kingdom of Saudi Arabia, Alhaji Mohamed Sillah Kargbo on Wednesday, 20th November, 2014 paid a courtesy call on his Qatari counterpart at the Diplomatic Quarters in the Riyadh, the capital of the Kingdom.
Sierra Leone, Qatar envoys in talks  on Ebola
Welcoming Ambassador Kargbo, Ambassador Sheikh Abdullah bin Thamer Al –Thani said Sierra Leone and its immediate neigbhbours, Guinea and Liberia need the urgent support of the International Community to combat the Ebola Virus Disease (EVD). The fight against the scourge, Sheikh Thani pointed out, should be a concerted effort by the International Community, if it is to be defeated in the shortest possible time.
During their meeting, the two Ambassadors also agreed to collaborate in areas of bilateral interest for the mutual benefit of the two sister countries. The envoys also exchanged cordial talks and discussed other issues of common interest.
The oil-rich Gulf State of Qatar is becoming a global energy giant, possessing more than 15% of the world's proven gas reserves, according to the BBC.
Qatar is also active on the regional and world stage, having mediated in disputes in the Middle East and Africa.
Qatar Envoy (right) welcomes his Sierra Leonean envoy