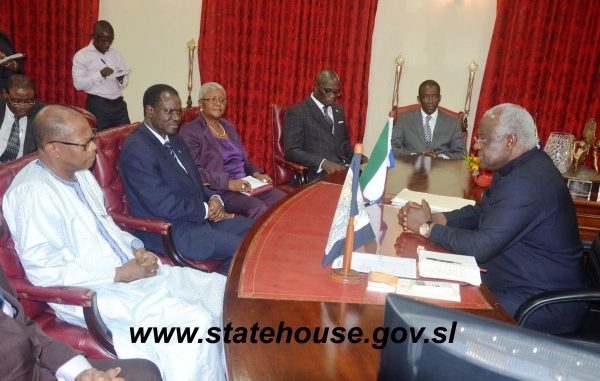 By State House Communications Unit :
President Ernest Bai Koroma hosted Wednesday 19th November the president of the ECOWAS Commission Ambassador Kadre Desire Ouedraogo at State House, Freetown. The Commission's president was in the country to show solidarity with the government and people of Sierra Leone towards the fight against the spreading Ebola virus and also presented a cheque of One Million United States Dollars ($1m) to support government's efforts to eradicate the disease.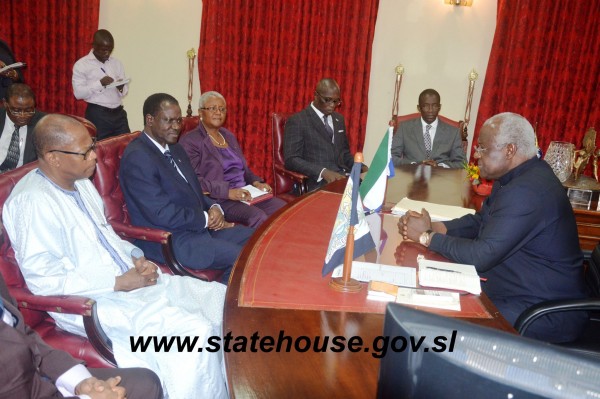 President Koroma described the gesture as timely and said it would immensely help in addressing the challenges to contain the virus. He explained the urgent need for more beds and laboratories to reduce waiting time at holding centers, and added that because of the nature of the disease, there is also an urgent need for additional logistical support, burial teams, trained personnel with the required capacity to run and manage the treatment centers. The president went on to state that government has restructured the National Ebola Response Centre (NERC) with an aim to bring in some kind of military approach so that people will be able to follow the regulations established by health officials. He observed that because of the nature of the disease, traditional practices have been identified as a major source of infection that has accelerated the chain of transmission. In this regard, President Koroma noted that "we can only defeat Ebola when we stop the chain of transmission…We have to break the chain of transmission at the community level," he emphasized.
Whilst expressing hope amid increase in resources and capacity, President Koroma emphasized the need to focus on bringing more health officials to support health centers. He also accentuated the significance of effective coordination and collaboration to contain the outbreak.
The President of the ECOWAS Commission started off by expressing condolences to Ebola victims and noted that ECOWAS has established a regional solidarity fund to support the three worst hit countries. He commended President Koroma and his government for the leadership he continues to display in the fight against Ebola and informed about the training of 131 medical personnel to be deployed in Sierra Leone, Guinea and Liberia. Ambassador Ouedraogo stated that ECOWAS has made a strong advocacy for the movement of people within the region and had also engaged air service operators to resume flights to the affected countries. He registered his commitment to fully support the government of Sierra Leone to bring an end to the outbreak.