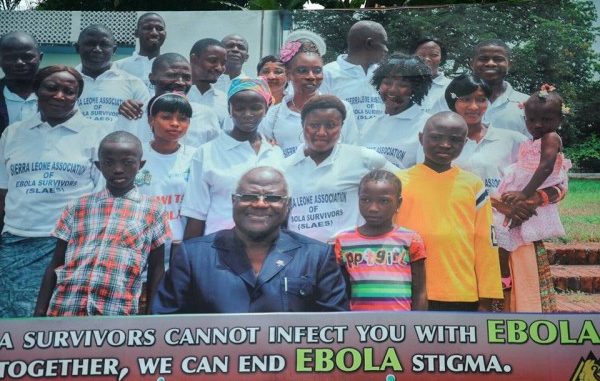 By State House Communications Unit
As Sierra Leone moves towards a resilient zero for the next 42 days, President Ernest Bai Koroma on Friday 28th August called on the public to support and embrace Ebola survivors as they strive to return to normal life. He made this call during the unveiling ceremony of the anti-stigma campaign billboard (located at Pademba Road-Dwarzack junction in Freetown) to ensure Ebola survivors return and live in their communities without being discriminated against.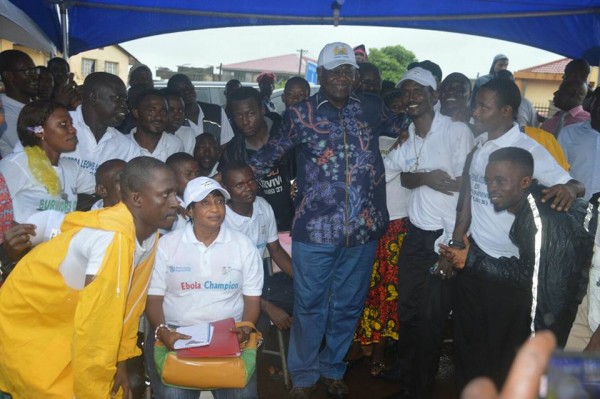 The president emphasized that the anti-stigma campaign focuses on survivors believing they have given hope in the fight against the virus, and noted that the survival rate gave hope not only to the infected but also to the entire country.
President Koroma also said there are over 4,000 Ebola survivors across the country which represents the country's strength and resilience against the virus. He urged the general public to embrace, support and welcome survivors to their various communities, and also explained that government will ensure capacity building and support for all survivors in the implementation of post Ebola recovery programmes. "Government will continue to train you and provide you with free health care," he assured.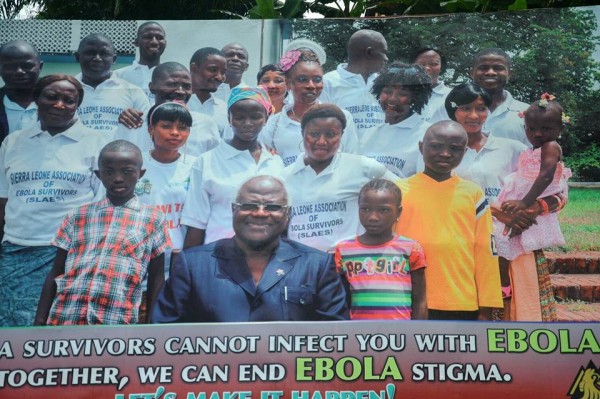 The president reiterated his call to communities and the general public to embrace survivors and integrate them to continue their normal lives, saying that they are the winners of the fight. "When you embrace and support them, you will not be infected," he said. He cautioned all that Ebola is still with us and the fight against the disease has not ended.
He also urged all Sierra Leoneans to remain focused and strictly adhere to burial protocols and continue to call 117 when someone falls sick or dies. The Chief Social mobilizer encouraged survivors to abstain from sexual activities for 90 days and not be a conduit for another infection, citing the Liberian situation where the virus erupted again after the country had been declared Ebola free.
President Koroma stated that government was anxious to restart and re-engage its development programmes across the country and that nobody should rest until after the virus would have been fully defeated. He thanked the National Ebola Response Centre (NERC) and development partners for their support in the fight to eradicate Ebola from Sierra Leone.
Minister of Social Welfare, Gender and Children's Affairs Alhaji Moijueh Kaikai said survivors are heroes and heroines who should not be stigmatized. The campaign is aimed at ensuring Ebola survivors are not in any way perceived as dangerous but as part of their respective communities.
"Stigma and discrimination against EVD survivors has no place in our communities," Tina Davies, Pillar Lead – Child Protection, Gender and Psychosocial, Ministry of Social Welfare, Gender and Children's Affairs representing the ministry at NERC said.
Brigadier Herbert of DFID called for empathy for Ebola survivors as they return to their different communities. He described the unveiling ceremony with the president's presence as very reassuring.
Representative of Sierra Rutile Ltd Kholifa Taylor-Kamara urged the public to avoid complacency and continue to be vigilant in the final push to end Ebola.
President of Ebola Survivors Union Yusuf Kabba thanked President Koroma for gracing the occasion and for his personal leadership of the fight against Ebola