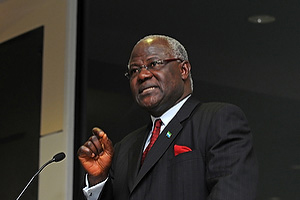 By KABS KANU : 

Since President Ernest Bai Koroma came to power in 2007, he has demonstrated that he is running a government that prefers and believes in robust and positive action , not endless banter and long , winding speeches to bamboozle the people. The President believes that when all is said and done, what matters is RESULTS . Therefore, President Koroma would rather work behind the scenes with his team and wait to savor the end-product than bore listeners with a plethora of endless speeches.
PRESIDENTS who talk too much often do not accomplish much. We have seen many examples in the world. They use their loquacity to cover their weaknesses and failures . With President Koroma, it is different. He only talks when it is necessary. He prefers to work and lay the groundwork for more robust action .
PRESIDENT KOROMA'S STATEMENT on the Ebola spillover in Sierra Leone has come at the most appropriate time .It has addressed misconceptions and misguided allegations that the Government did nothing to forstall the spread of the deadly disease from neighbouring countries where the outbreak started. The statement has also revealed all the positive actions being taken by the Government to stop the spread of the disease. We are more inclined to believe President Koroma's version because apart from being a man who speaks only when it is necessary, he is also a man of integrity. Secondly, President Koroma never operates with a hidden agenda. He is transparent and accountable . Such a man is more believable .
As a nation, we are gratified to know that the Government has not been resting on its oars since Ebola first broke out in neighbouring Guinea., but that the Government had been taking strong actions to stop a spillover in Sierra Leone. Addressing the nation yesterday on Government's action against any outbreak in Sierra Leone, President Koroma said :
"Since the first reported case of the Ebola virus in the country, we have acted to tackle it. We designed an Ebola Response Plan, set up an inter-ministerial committee to mobilize support across the various government agencies; and established a National task force comprising committees on case management, laboratory and surveillance, logistics, communications and social mobilization. We have set up pre-referral centres in Koindu and Daru, treatment centres in Kailahun and Kenema, and observation units in government hospitals and health facilities all over the country. When Ebola hit our sister republic of Guinea we commenced and completed the training of 300 health workers on Ebola case management and we have been training more on a weekly basis."
"Fully cognizant of the fact that government cannot do all, we engaged the Motor Drivers Union, the Bike Riders Association, Market Associations, civil society organizations, members of parliament, political parties, the interreligious council, musicians, and the traditional healers. We engaged our international partners for support, assembling an international team of professionals to aid our actions against the disease. We have provided resources to members of parliament from Kailahun, Kenema and Bo for awareness raising purposes, and we asked the leadership of political parties to come up with a plan of action that we will support. This is a national fight, and all must be involved. And I strongly believe that our country has the goodwill, the resilience and the determination to scale this challenge."
It could be seen thus that the government's preparation to avoid an outbreak and its efforts to stop the spread of the disease once it had spilled over to Sierra Leone were quite in place and the President's detractors had no business accusing his government of inaction towards Ebola.
The Government did what was necessary to arrest the problem , but as we now know from reading more about Ebola and how it starts in other countries , we know that it is a dangerous disease that could spread very fast wherever it begins because it is transmitted by human contact and human beings are always on the move, shaking hands with each other, sharing body fluids and foods and engaging in other acts that ensure the speedy transmission of the disease to other unsuspecting victims.
In the case of Sierra Leone, there was no way that the disease could not have spilled over from Liberia and Guinea. The heavy cross-border interactions and strong and enduring family and kinship ties between people living within and across the borders would always ensure human contact and sharing, and as a result, contact with the disease, whatever measures the governments of the three countries put in place. For example, people travel across the borders to sympathize with one another and participate in funerals, which easily expose them to contact with corpses of ebola victims . That was how Ebola spilled over into Sierra Leone. It was not manufactured by the Government, as detractors say . The spread was inevitable given the scenerios I have enumerated.
Ebola did not come to Sierra Leone because the Government did nothing. It spilled over because of human contact with our neighbours across the borders. Even if the borders had been closed, people would have still been compelled to use forest trails , footpaths and back roads to violate the order as is always the case in all countries. Therefore, it was not even right to have blamed the government for not closing the borders. No country in the world has enough personnel and resources to patrol their borders enough to stop cross-border interaction. Though the U.S. is one of the richest and technologically advanced nations , it cannot effectively police its borders with Mexico to stop illegal crossovers.
Now that President Koroma has efficiently cleared the air, let us join the government to sensitize the people and let us also engage in safe and best practices to avoid contracting the disease. President Koroma said it all : " Ebola in any part of our country is a matter for everyone in the nation. This is not only a matter for our brothers and sisters in the Kenema and Kailahun districts, it is a fight for everyone of us, everyone in the government, everyone in every political party, in every region, every district, city, town and village. "
Recriminations, grand standing, playing to the gallery and blame games are not the solution.
Let us listen to what our President has said. It is the only solution.
"Together with partners we are also providing door to door sensitization on Ebola; and with the World Food Programme we have commenced the provision of food subsidies targeting 30,000 persons in Kailahun and Kenema. This will continue for three months. But we need to do more . The major route of transmission of the Ebola virus is contact with persons infected with the virus. That is why the main way to stop the spread of the disease is preventing contact with persons with the virus, and everybody who has had this unprotected contact could be carrying the virus and at risk of infecting others. Tracing these persons and taking them to our observation and treatment centres is therefore integral to the fight against the disease. Working with our partners, we have just recruited and trained an additional 150 volunteers in Kailahun for tracing people who had unprotected contact with Ebola victims in Kailahun and we are soon commencing training of a second batch of 150 volunteers in Kenema. The cooperation of all is needed to ensure effective tracing of those who have had contact with persons with Ebola. We must sustain this effort to defeat Ebola. This is a fight for all of us, this is the moment for all of us to stand up and be counted for our positive actions against Ebola. We must defeat this threat to our nation, we must soldier on, we must prevail."