Last Friday, the owner, Chief Executive Officer and Publisher of  COCORIOKO , Leeroy Wilfred Kabs-Kanu,  conducted a face-to-face exclusive interview with Sierra Leone's Deputy Government Spokesman ,Mr. Ajibu Tejan-Jalloh, who is in the United States of America. It was the eve of Mr. Kanu's birthday, but the work of the Sierra Leone Government had to go on. The Deputy Government Spokesman, Mr. Ajibu Tejan-Jalloh is in the United States of America and Kabs-Kanu  could not pass by the opportunity to conduct an exclusive interview with him to bring to his ever eager readers answers to some of the burning questions many of them will be tossing with presently.
____________________________
The Deputy Spokesman dropped in to see me and I conducted a long and exhaustive interview.  It was on the same day that the National Advisory Council ( NAC ) of the ruling All People's Congress ( APC ) expelled the Vice-President , Mr. Samuel Sam Sumana for a variety of allegations including falsifying his religion, academic qualifications and inciting chaos within the party and attacks on government officials. The interview came also on a week that Sierra Leone was still struggling with the Ebola virus, with fluctuating figures,  despite a dramatic reduction in the number of new infections. There was definitely a lot to discuss  . From Somerset, New Jersey, Kabs Kanu reports :
COCORIOKO : Welcome to the U.S, Mr. Deputy Government Spokesman and thanks for agreeing to this interview. Let us go on straight to business. The Vice-President Sam Sumana was expelled from the APC today. What are your thoughts , for the benefit of the public ?
AJIBU TEJAN-JALLOH :  The 9-man committee of the party which looked at the issue of the Vice-President came out with an announcement that the VP  has been expelled from the APC. That is all I know so far. Over and beyongd this, I will have to refer you to the  party Secretary General ot Publicity Secretary. I am there to inform the public about government programs , not party affairs , one such being the Ebola virus , which is at the front and the centre .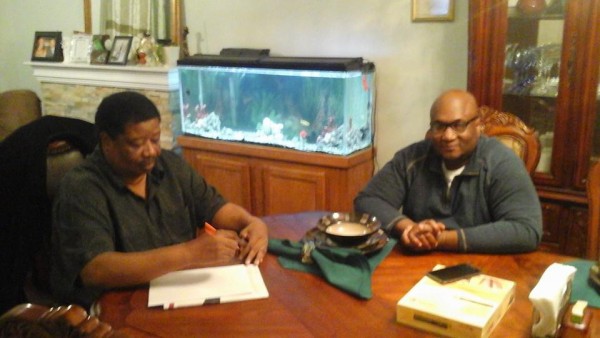 COCORIOKO : As soon as the announcement was made this evening, some participants of social media forums began saying that the decision will have what some of them described as overlapping consequences on the APC, with the next elections expected in 2018. What is your take on such speculations ?
AJIBU TEJAN-JALLOH : I am not sure of any overlapping effects. What President Ernest Koroma has been looking at is that all areas of the country, icluding the economy,  receive full attention. We are at a point where we cannot stall any activity for the sake of Ebola . The APC Party has its mandate and has responsible officials that are capable of employing measures necessary to keep the party functioning . Over and beyond that, I will refer you to the party scribe.
COCORIOKO : O.K, thank you, Mr. Deputy Spokesman. Let us go to your domain. The Ebola. Though the numbers are down dramatically, we keep receiving new cases
AJIBU TEJAN-JALLOH : Liberia contracted Ebola before us and they had their support to eradicate it before us and naturally they will have to finish it before us before we get to that point. But generally speaking, we are doing effectively well. We are making effective use of the treatment centres , the holding centres , the laboratories and the trained medical personnel. We are collaborating and coordinating with with international partners . We continue to engage and maximize our efforts in social mobilization and that is reflected in the cases we are getting now. We have moved from a situation of 100 cases a day to small numbers of double digits and at times single digits a day. But what is important in all of this is that every ebola case is treated as an event , and by this I mean, there is a clear background of the infection — where it came from , whom the person has been in contact with and  we can anticipate the next possible area of infection.
COCORIOKO : In your opinion, where are the new infections coming from ?
AJIBU TEJAN-JALLOH : All of the new cases are coming from surveillance and contact tracing teams , which meanns that we are in control.  The major problem we have is the issue of people  not taking the measures necessary not to contract the disease. For example, a few weeks ago, a fishing boat came into Aberdeen from which an ebola-infected person disembarked and came into the community . But because of  an active surveillance and proper preparedness , we were able to contain the spread. The protocol has been "DON'T TOUCH OTHER PEOPLE . Don't go to their compounds, don't allow strangers in your vicinity;  wash your hands as many times , don't touch the sick; don't bury the dead ; stay clear of bush meat . If we follow these protocols, we will be on the way of counting 45 days without any new cases of infection . It is as simple as that .
COCORIOKO : From your observation of what is going on on the ground, is there any cause for optimism that we, like Liberia, will soon be discharging our last ebola patient ?
AJIBU TEJAN-JALLOH : Looking at the evidence of the data and  the rate of infection , yes, we can say that we are close to that end.
COCORIOKO : There are some Sierra Leoneans in the social media expressing fears about the re-opening of schools when we are still having new infections, though the numbers are drastically down.
AJIBU TEJAN-JALLOH :  Being that we have taken full control of Ebola and we are fully aware about where the ebola infections are coming from, President Koroma is eager to take measures to get life back to normal. He is eager to take measures to get other sectors of the economy moving again. There has been collaboration between the three affected countries, Sierra Leone, Liberia and Guinea, to reopen schools. Sierra Leone, in particular, has had serious protracted discussions with development partners , the Ministry of Education and stakeholders.
COCORIOKO : What are the results of this collaboration ?
AJIBU TEJAN-JALLOH :  Based on these discussions, a determination has been made for the reopening of schools on March 30.  Several proper measures  have been put in place , e.g every class meeting will start with a minimum of 5 minutes of sensitization on how to break the transmision of ebola , by the instructor. There will be periodic and random temperature checks during school time . New furniture will be installed to ensure that students are separated. Adequate water facilities will be made available to support frequent hand-washing. Isolation centers will be established within close proximity of every school . All schools that were used as holding centres will be thoroughly disinfected and of corse class meeting times will be increased by days and hours to be able to compensate for the reduced number of students per class.  An increased amount of surveillance personnel to identify signs and symptoms of ebola where present will be provided. These are but a few of the measures.
PART 2 OF THE INTERVIEW WILL BE PUBLISHED TOMORROW